Wayne High School athletics among the best in its class
Athletic director says school has been proactive in virus response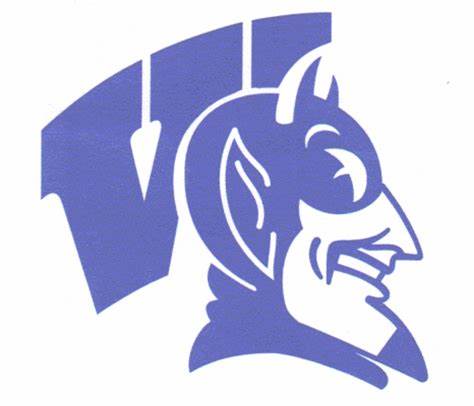 The Wayne Blue Devils have emerged as one of the most competitive athletic programs within its Nebraska School Activities Association (NSAA) classification, and with the cancellation of fall sports at Wayne State College, Wayne High School has given sports fans in the community plenty to talk about.
Many residents in the community of less than 6,000 residents have invested themselves as die-hard WSC sports fans throughout the years. While Blue Devil fever is always running high in Wayne, high school sports in town are not always the center of attention.
Now, Wayne High athletics is at the center of the spotlight and has proven itself as one of the all-around premier programs in Class C.
Blue Devil volleyball, as of Oct. 7, held a 19-7 record and was ranked 14 among 54 Class C programs in the NSAA's wild card points standings. The Blue Devils have at one point this season been ranked in the Omaha World Herald's Class C top 10 and are currently ranked fourth in Class C, according to the Norfolk Daily News.
Wayne currently is riding an 11-game winning streak dating back to Sept. 24, with its last loss coming from Class C2 No. 2 Norfolk Catholic. The Blue Devils will carry that streak into a Thursday night showdown with the Battle Creek Braves, who are coming off a 3-1 defeat to Norfolk Catholic. More importantly, the Braves sit just two spots ahead of Wayne in the NSAA's wild card standings.
Wayne High volleyball qualified for the Class C State Tournament in each of the last two years, and despite the graduation departures of Hailey Becker, Emily Armstrong and Frances Klausen, the Blue Devils are on the verge of clinching a third consecutive 20-win season.
Senior middle hitter Lauren Pick, who finished last season among the best in Class C1 with 550 kills, sustained an injury prior to Wayne's current winning streak and was either playing hurt or sidelined. With Pick back in the lineup and as healthy as she's been in the last month, the Blue Devils have spent the last three weeks playing their best volleyball at the most vital point of the season.
Wayne softball, who competes at the Class B level, finished its 2020 campaign with a 20-9 record and saw its season come to a finish last Friday in the B-6 District Final against Grand Island Central Catholic in Grand Island.
The 20-win season in 2020 came on the heels of a 2019 season in which the Blue Devils were the Class B state champs and won 35 of 39 games.
"I think this [success] has been because of our student-athletes, coaches and supporting staff," David Wragge, Wayne's athletic director said. "Our kids have bought into the new changes and haven't fought the masks and all of the other things that we need to do to keep them playing."
Wayne football, with a 5-2 record, is ranked sixth in C1's wild card standings and second in the Class C-5 district, just behind undefeated and defending state runner-up Pierce. The Blue Devils will travel to O'Neill Oct. 16 to take on the 1-6 Eagles before wrapping up their regular season against Pierce on Oct. 23 in Wayne.
Wragge said he has been impressed with the response of both Wayne High School and the community of Wayne for being willing to adhere to strict health protocols during the COVID-19 outbreak. The changes brought about by the pandemic have not been ideal for anybody, Wragge said, but he is especially impressed with how Wayne High has helped mitigate the spread of the virus in the community. This has enabled fall sports programs at Wayne to continue with minimal issues pertaining to health.
"Everything has changed," Wragge said. "Before practice each athlete is screened, and temperatures are taken. There are no more water trees for outdoor sports and each athlete needs to bring their own water jug. The water boys are getting a workout; they have to have a labeled water jug for each athlete and keep them separate during games when there is a timeout. We've also had to space out spectators and tape off sections of our bleachers to help with social distancing."
Several high schools across Nebraska, particularly football programs, have made the decision to cancel previously scheduled games due positive COVID-19 cases. In many cases, high school athletic directors have worked to find "replacement games" upon being told that their opponent would be unable to compete. Some schools in Nebraska have even reached out to schools in Iowa to execute these replacement games.
Wayne has not been forced to cancel games or find replacement opponents yet this season, and Wragge said in the event one of the Blue Devils' opponents is forced to cancel, whether or not Wayne would immediately search for a replacement opponent would depend on the health of Wayne's roster.
"If we are all good to go, we would definitely look for another opponent to play the game," Wragge said. "We want to give our athletes every opportunity possible to compete and have a 'regular' season. If we're going through some injuries and or illness on our teams, we would use the game off to get healthy and be ready to compete when we are again able to."
Very few students have opted not to compete in athletics this season because of health risk reasons, Wragge said, primarily because most student-athletes and their families feel comfortable with the protocols in place that are necessary for extracurricular activities.
"Our support staff has been great in putting in the extra hours needed to clean and disinfect our locker rooms, gyms, and other facilities," Wragge said. "It has really been a team effort of everyone doing their part in keeping things going."