WSC Red Cross Club Collects 85 Units at Recent Blood Drive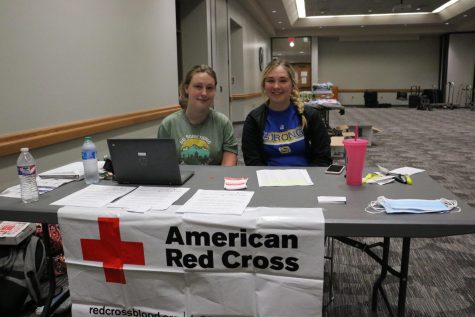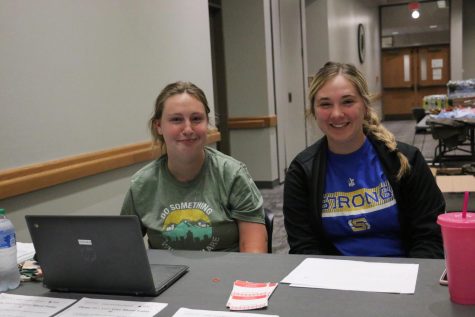 The Wayne State College Red Cross Club collected 85 units of blood from their 2-day blood drive on Tuesday, September 6 and Wednesday, September 7.  
Allie Jaixen, president of the WSC Red Cross Club, said on Tuesday, the club collected 34 units of blood and on Wednesday they collected 51 units of blood.  
 Gabe Perez was one student who gave blood during the drive. Perez said he has given blood regularly since he was a senior in high school, about 5 years ago. "My grandfather has been giving blood for a decade plus, so I decided I wanted to do the same because it helps me, it helps other people. It's just good all around," Perez said. 
 When Perez donates, he chooses to donate two units rather than one. When donating double, the blood is taken while the other fluids are put back into your body. "You're rehydrated and feel better, you actually go numb. It feels really good." Perez said. 
The WSC Red Cross Club will host a total of eight blood drives this year, including the one last week. There will be drives in November, February, and April. Students interested in donating can schedule their appointments on the Red Cross app.  
"We have the Red Cross app, that's where you can set up to donate and check your status to see if you're eligible to donate," WSC student Allie Jaixen said.  
The Red Cross app does more than set up your appointments for you. On the app, users can fill out their pre-donation and health history questionnaire before giving blood, as well as fill out surveys after giving blood to speed up the process. Doing the surveys through the app allows those who have donated to fill out the survey outside of the donation room. 
 After your visit, the app will also send you your donation progress and the hemoglobin levels from your previous visit. The Red Cross app will notify you when you reach certain milestones such as a gallon of blood. Jaixen said the biggest milestone she has seen is a gallon, and that reaching a gallon is common for people who donate regularly.  
The next blood drive the WSC Red Cross club will host is on Nov. 2. Interested students can sign up for a time slot on the Red Cross app or at redcrossblood.org.