March Madness is here, but your perfect bracket won't be for long
Hang on for a minute...we're trying to find some more stories you might like.
Everybody knows that if they're being realistic, their bracket won't be perfect. No matter how much thought, research and preparation goes into filling out the perfect bracket, almost everyone's bracket will be busted by the conclusion of the tournament's first weekend. As a matter of fact, there are 9,223,372,036,854,775,808 ways to fill out a bracket – that's 9.2 quintillion. Yet, everybody's optimism seems to return year in and year out and they'll find themselves believing they'll be at the top of the twenty-three pools they entered. I'm no Jay Bilas or Joe Lunardi, but I've had a decent amount of success filling out my bracket in past years. There are the favorites and the potential "sleepers." These are the teams I see that fill those descriptions.
Favorites: Naturally, the higher the seed, the better the team. No. 1 seeds are almost four times as likely to win the tournament as the next best seed. According to Bracketologist Jack Jones, one seeds have 41.2% odds to make the Final Four, 24.3% odds to play in the championship game and 15.4% odds to win the national championship. Those are just the odds of an individual one seed, as there is a 61.8% chance that any one of the four "one seeds" will win the entire tournament. I don't expect that most people will use these numbers when filling out their brackets, but it's a reminder that despite all the upsets you'd like to see or actually believe you will see, riding and dying with a number one seed to win the national championship is the best route to go.
With all that being said, my favorites to win the tournament are Duke (No. 1 – East), North Carolina (No. 1 – Midwest), Virginia (No.1 – South) and Michigan (No. 2 – West). All season long I found myself claiming a new "best team in the country" every week. Those ranged from the aforementioned Duke, Virginia, Michigan and North Carolina to teams like Michigan State, Kentucky and Tennessee. Right now, I think Duke is the best team in the country when at full strength. Often, it's the "hottest" team that wins the title, not the best, but if Duke's star-studded starting five lives up to their potential, I don't see any team stopping them. That's why I have the Blue Devils beating North Carolina in the National Championship Game on April 8 in Minneapolis.
Sleeper: The only sleeper in my eyes is Villanova. My primary reasoning for this is simply because they are the defending champions and winners of two of the last three national championships. They have the tournament pedigree and experience needed to work their way through the daunting task that is winning repeatedly in March. Villanova is a six seed, slightly under seeded in my opinion. Six seeds are usually watching from the couches by the time the Elite Eight rolls around, but the Wildcats are in the south region, the weakest in my opinion, with the most vulnerable one seed (Virginia).
There are bound to be crazy upsets and there is likely a Cinderella out there that's going to prove me wrong and make a run to the Sweet 16 or even further. March Madness rarely ever disappoints, and frankly, I'm hoping my predictions are wrong because if they're right, the tournament will be lacking major upsets and Cinderella runs, making the tournament much less intriguing.

About the Writer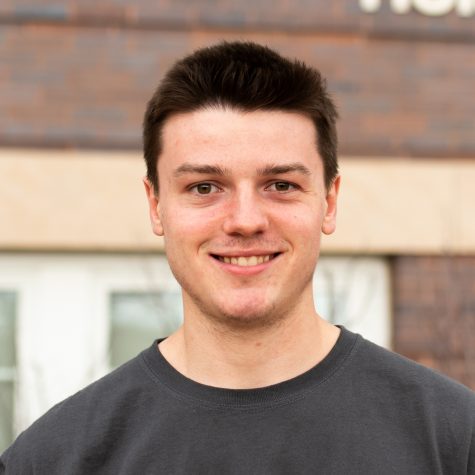 Austin Svehla, Assistant Sports Editor
Austin Svehla is from Columbus, Nebraska and graduated from Scotus Central Catholic High School in 2016. He is currently a junior and is majoring in Electronic...