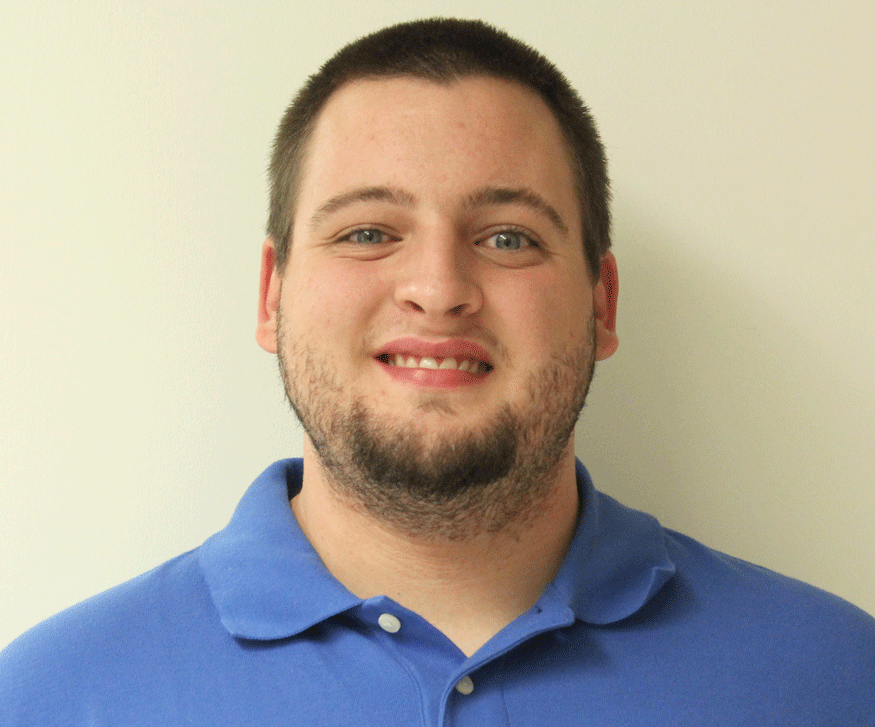 Richard Rhoden is the Sports Editor at The Wayne Stater. He is a senior whose major is Journalism.
"Anything you need to know comes from Mr. Roger's Neighborhood."
"I eat lightning and crap thunder."
"Life is temporary, sports are forever."
Rich said after graduation "Sports Illustrated or ESPN will be calling as soon as I walk across the stage."
Richard Rhoden, Spring 2015 Editor in Chief/Sports Editor; Fall 2014 Sports Editor
Feb 22, 2017

Letter to the Editor

(Story)

Apr 29, 2015

Teachable Moments

(Media)

Apr 29, 2015

Softball seniors defeat Mankato for a career first

(Media)

Apr 22, 2015

It will be over before you know it

(Media)

Apr 15, 2015

BigRich Sports Report: The stuff of legends

(Story)

Apr 15, 2015

The Wildcats do battle in Minnesota

(Media)

Apr 08, 2015

Sunday Dreams: No need for congratulations

(Media)

Apr 08, 2015

WSC ruggers host 80 squads

(Media)

Apr 08, 2015

Softball team sweeps weekend doubleheaders on the road

(Media)

Apr 01, 2015

Wildcats continue hot streak at home

(Media)

Apr 01, 2015

The Wildcats show off in front of home crowd

(Media)

Apr 01, 2015

Wayne State battles the elements over weekend

(Media)

Mar 25, 2015

Softball goes 3-3 in the show me state

(Media)

Mar 25, 2015

Wayne State digs the long ball

(Media)

Mar 18, 2015

Roller coaster ride

(Media)

Mar 18, 2015

Sunday Dreams: Turning potential into greatness

(Media)

Mar 18, 2015

Undefeated in sunshine state

(Media)

Mar 14, 2015

Wayne State falls to host Fort Hays State

(Story/Media)

Mar 13, 2015

Wayne State rises to the occasion

(Story/Media)

Mar 04, 2015

Lady Wildcats fall short of conference tournament title

(Story/Media)

Mar 02, 2015

Wayne State advances to Finals

(Media)

Feb 28, 2015

Wayne State advances to Semis with win over St. Cloud State

(Story/Media)

Feb 25, 2015

Men's hoops finish regular season with two losses

(Media)

Feb 18, 2015

Senior day a sweet one for Lady Wildcats

(Media)

Feb 11, 2015

Presidential search consultant makes first appearance in Wayne

(Media)

Feb 11, 2015

Wildcat men can't keep up with Dragons or Wolves

(Media)

Feb 11, 2015

Jordan Spencer: The Drive

(Media)

Feb 11, 2015

Browning strikes out competition

(Media)

Feb 10, 2015

A Valentine's Date: From the Man

(Story)

Feb 05, 2015

Trae Vandeburg for the win

(Media)

Feb 05, 2015

The most bang for your buck

(Story)

Jan 30, 2015

Lady Wildcats assert themselves into first place

(Media)

Jan 30, 2015

First conference win sweet for Brian Dolan, WSC basketball

(Media)

Jan 29, 2015
Jan 29, 2015

Men's hoops finally got the monkey off their back

(Media)

Jan 22, 2015

Losing skid continues for men's hoops

(Media)

Jan 22, 2015

Passing the Torch

(Media)

Jan 21, 2015

Lady Wildcats charging to the top of NSIC standings

(Media)

Dec 03, 2014

Keeping an eye on your path

(Media)

Nov 24, 2014

Wildcat men fall to Augustana in NSIC opener

(Story/Media)

Nov 24, 2014

Lady Wildcats earn first NSIC win over Augustana

(Story/Media)

Nov 22, 2014

Veterans, newcomers lead Lady Wildcats over Eagles

(Story/Media)

Nov 22, 2014

Patrick Kurth shoulders load for Wayne State

(Story)

Nov 20, 2014

Jordan Spencer reaches 1,000 as Wayne State smashes York College

(Story/Media)

Nov 19, 2014

Wayne State's excellence on the hardwood

(Story/Media)

Nov 19, 2014

WSC volleyball NSIC tournament runner-up, qualifies for Regionals

(Media)

Nov 19, 2014

A rough outing in Sooner state

(Story)

Nov 19, 2014

Big Rich Sports Report: Nebraska football: a slippery slope

(Story)

Nov 19, 2014

A football winter wonderland in Sioux Falls

(Media)

Nov 19, 2014

Former NFL player talks tough

(Story/Media)

Nov 19, 2014

Lady Wildcats sweep MIAA in opening Tourney

(Media)

Nov 18, 2014

Ragemonster Experience: The greatest Husker back to never touch the ball

(Story)

Nov 12, 2014

Division II's best throttles Wayne State

(Media)

Nov 12, 2014

Turnovers, injuries plague Wildcats at Upper Iowa

(Media)

Nov 12, 2014

Soccer finishes on a high note

(Story/Media)

Nov 12, 2014

Not just a regular basketball game

(Story/Media)

Oct 29, 2014

Wildcats squeak out OT victory

(Media)

Oct 29, 2014

Facing adversity, and overcoming it

(Media)

Oct 22, 2014

Volleyball snatches one from Jewell

(Media)

Oct 08, 2014

WSC rugby fights to the end

(Media)

Oct 08, 2014

Wayne State rocks Winona State for Homecoming win

(Media)

Oct 08, 2014

WSC Volleyball collects two more victories on Homecoming

(Media)

Oct 01, 2014

One year later: We are grateful'

(Media)

Oct 01, 2014

Hometown cooking for Wayne State The Wildcat

(Media)

Oct 01, 2014

Wildcat defense shines in Minot

(Media)

Sep 24, 2014

Staff Stories: Brandow is unsung office hero

(Media)

Sep 24, 2014

Wildcats lose in bizzare ending

(Media)

Sep 24, 2014

WSC ruggers dominate in The House of Pain

(Media)

Sep 17, 2014

Soccer completes stretch of three games in six days

(Media)

Sep 17, 2014

Wildcats snap home losing streak

(Media)

Sep 03, 2014

The journey begins

(Media)

Sep 03, 2014

BigRich Sports Report: Let's play football

(Story)

Sep 03, 2014

WSC soccer team trying to build from last season's struggles

(Media)

Aug 27, 2014

Time for redemption

(Media)

May 01, 2014

WSC spring scrimmage

(Media)

May 01, 2014

Rumble in Rice much more than a game

(Story/Media)

May 01, 2014

Wildcats take three of four from Vikings

(Media)

Apr 23, 2014

The best way to spend a Saturday

(Media)

Apr 23, 2014

Home field advantage for Wayne State

(Media)

Apr 23, 2014

Emily Wells named NSIC field athlete of the week

(Media)

Apr 23, 2014

Ragemonster Experience: WSC football team has spring in step

(Story)

Apr 16, 2014
Apr 16, 2014

It finally means something

(Story)

Apr 16, 2014

Wildcats plagued by cold bats

(Media)

Apr 14, 2014

A rugby championship: Priceless

(Media)

Apr 02, 2014

O' Brien carries hot bats of WSC softball

(Media)

Apr 02, 2014

Rugby: kind of a big deal

(Media)

Mar 31, 2014

BigRich Sports Report: Time for a revolution

(Story)

Mar 26, 2014

Hagemann performs at the plate

(Media)

Mar 26, 2014

Browning out the competition

(Media)

Mar 26, 2014

Rugby teams back in the groove

(Media)

Mar 19, 2014

Wayne State unable to complete title run

(Media)

Mar 12, 2014

HED: Wayne State's Blueprint to Avoid the Madness

(Story)

Mar 05, 2014
Feb 24, 2014

Riding the emotional roller coaster

(Media)

Feb 14, 2014

Softball primed for home run season

(Media)

Feb 12, 2014

Wayne State ladies…for three

(Media)

Feb 12, 2014

Wildcats lost in the Woods

(Media)

Jan 30, 2014

Buzzer nips Wildcats

(Media)