The Wildcats do battle in Minnesota
Wayne State softball finishes 3-3 after three doubleheader matchups up north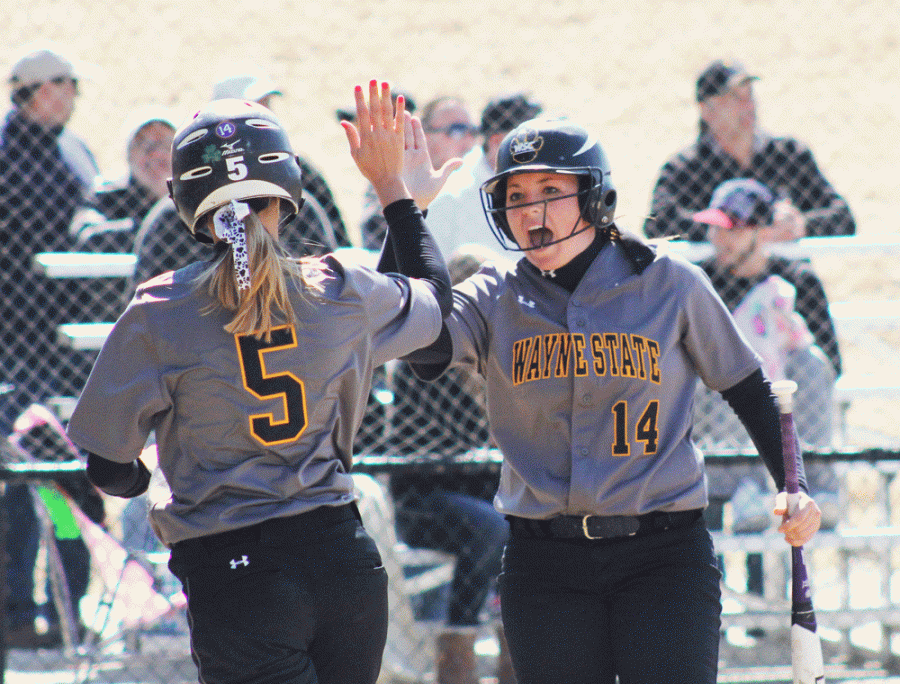 Although the weather was warm and sunny, with some good and bad luck, Wayne State concluded a week of playing in three away doubleheaders with an even 3-3 record.
WSC headed out to Marshall, Minn., to play a doubleheader against the Southwest Minnesota State Mustangs.
The first game looked promising for the Wildcats, who had the lead until the seventh inning, only to lose the game when the Mustangs scored three runs on three hits and an error made by the 'Cats outfield, losing the game 4-3.
"Coming together as a team and believing in ourselves from start to finish are key to winning games, and when we don't do that, it shows on the field and the scoreboard," head coach Shelli Manson said.
The second game, thankfully, did not follow along the same path, with the bats coming alive enough to out-score Southwest Minnesota 5-2.
Lexie Loos, who went 3 for 4 in the game, helped the Wildcats score three runs in the first inning with her lead-off triple, paired with RBI singles from Kaiti Williams, Megan Hagemann and an RBI double by Kelcie Bormann.
The 'Cats furthered their lead when Bormann hit a solo homerun in the third, making Bormann 2 for 2 in the game and 3 for 5 on the day.
Bormann was not only on fire on offense, but also defense. She pitched a full seven innings against the Mustangs, only allowing three hits and two runs.
"One of the biggest things that I had to focus on was being a leader and playing my game," Bormann said. "I had full confidence in my team and teammates that we would come out on top."
Bormann continued to be a leader for her team through the next two doubleheaders WSC played over the weekend.
On Saturday, the Wildcats headed up to Bemidji State University.
Bormann was solid on the mound and despite firing a complete game five-hitter, she was still recorded as the losing pitcher in the 2-1 loss, charged with two runs and nine recorded strike outs.
Bormann also went 3 for 3 while hitting and was the only multi-hitting player in the game, but that still wasn't enough to help the 'Cats win.
The second game gave Bemidji the sweep against WSC.
Both teams had eight hits, with sophomore Alyssa Schropp going 2 for 3 with a double to lead the Wildcats at the plate. Megan Hagemann and Loos each added two singles while Bormann and Alex Schmidt recorded the only other hits for WSC.
Sunday was a much better day for the 'Cats, who broke open their doubleheader against University of Minnesota Crookston with two wins.
Junior shortstop Sam O'Brien helped WSC win the first game 9-3 with her grand slam in the first inning, followed by her solo homerun later in the seventh inning.
The second game of the day went along in a similar fashion with the 'Cats winning 9-4 with 12 recorded hits and four players on the roster hitting a multi-hit game.
"The best thing about my team is that they are mature enough to motivate themselves," Manson said. "They were unhappy with what happened at Bemidji and decided as a team to make sure it didn't happen at Crookston."
After this week, WSC is now 24-14 on the season and 10-8 in league play.
__________________________________________________________
Southwest Minnesota
Game 1
Southwest Minn…….000 100 3 – 4 10 2
Wayne State…….…. 002 001 0 – 3 7 2
Win – O'Connor,A (13-8). Loss – Miller, C. (5-3).
2B – Chadwick,M(4); Carroll,K(9); Williams, K. (10); Wobken, S. (6).
HR – Williams, K.(1).
Game 2
Southwest Minn……. 000 100 1 – 2 3 3
Wayne State…………..301 100 X – 5 9 2
Win – Bormann, K. (12-6). Loss – O'Connor, A. (13-9).
2B – Chadwick,M(5); Williams, K.(11); Bormann, K.(5).
3B – Luttmann,A(2); Loos, L. 2(3).
HR – Bormann, K.(3).
Bemidji State
Game 1
Wayne State…………. 100 000 0 – 1 6 0
Bemidji State……….. 000 110 X – 2 5 0
Win – Yost, J. (11-6). Loss – Bormann, K. (12-7).
2B – Bormann, K.; Roberts, A.; Braiedy, J.; Peterson, L..
3B – Alyea, Mo.
Game 2
Wayne State………… 000 000 1 – 1 8 1
Bemidji State………. 100 210 X – 4 8 0
Win – Massingill (1-5). Loss – Scheffert, S (5-4).
2B – Schropp, A.; Peterson, L. 2.
HR – Yost, J.
Uni. of Minnesota, Crookston
Game 1
Wayne State………….. 440 000 1 – 9 10 0
Golden Eagles……… 300 000 0 – 3 9 1
Win – Miller, C. (6-3). Loss – Braatz, B. (2-12).
HR – O'Brien, S. 2.
Game 2
Wayne State…………..102 042 0 – 9 12 3
Golden Eagles……….200 010 1 – 4 6 3
Win – Bormann, K. (13-7). Loss – Derflinger (1-8).
2B – Williams, K.; Alyea, Me.; Foley, A..
HR – Alyea, Me..
About the Contributors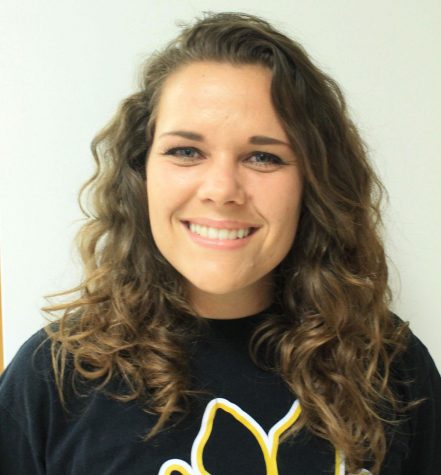 Melanie Alyea, Sports Editor
Melanie Alyea is a junior majoring in journalism.

She currently serves as the sports editor for the Wayne Stater.

Alyea has been to 30 different...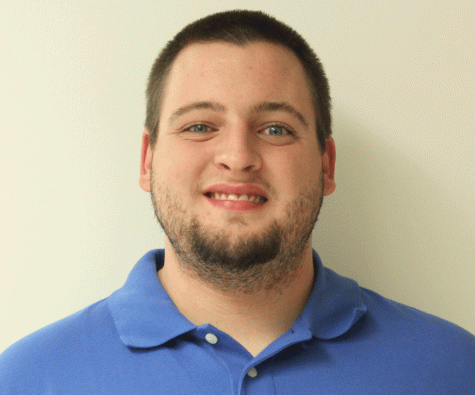 Richard Rhoden, Spring 2015 Editor in Chief/Sports Editor; Fall 2014 Sports Editor
Richard Rhoden is the Sports Editor at The Wayne Stater. He is a senior whose major is Journalism.

"Anything you need to know comes from Mr. Roger's...