Lady Wildcats earn first NSIC win over Augustana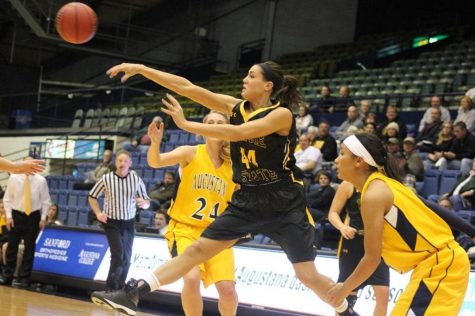 Some players just have a team that they consistently play great games against.
For Jordan Spencer, that team is Augustana.
Spencer dominated in all aspects of the game, notching 23 points on 9 of 11 shooting and career highs in rebounds with 14 and assists with 5. She led a Wildcat attack that defeated the Vikings 71-57 for Wayne State's first NSIC win of the season.
"It's huge, Augie is going to win a lot of games and have a lot of really good, young players and to start 1-0 in conference is right where you want to be," Coach Chris Kielsmeier said. "You can't win a championship in November, but you can lose one and we took a big step forward tonight. We want this team to get better and get more confident and we took a big step forward with that tonight."
As for Spencer, Kielsmeier saw the growth and willingness to get better each and every outing.
"Jordan is in a comfort zone and she was hitting her jumper tonight, and when she hits that she is pretty much un-defendable," Kielsmeier said. "She wants to be a complete player and grow in all aspects of the game and she's doing that right now."
It was a back and forth matchup throughout the first half, as neither team gained more than a 5 point lead.
Wayne State took a 9-4 lead after three minutes of play before Augustana got back within one at 9-8. The Vikings took their first lead off a Shaunteva Ashley free throw to make the score 13-12. However, a three-pointer on the ensuing possession by Ashton Yossi gave the Wildcats the lead back 15-13.
Augustana regained the lead at the 9:16 mark 20-19 with a three from Allie Koehn, but a Millie Niggeling three gave the Wildcats the lead again 22-20. The Wildcats held the lead for the remainder of the first half, taking a 31-26 lead into the locker room, their largest lead of the game.
The Wildcats came out of halftime firing on all cylinders, grabbing a 46-36 lead with 13:35 left in the game.
It was then that Augustana gave it one last push.
The Vikings scored went on a 9-2 run to make the score 49-48 with 8:49 left.
The young Wildcats showed off their resilience, scoring the next 13 points to take a 61-49 lead to put the game on ice. The Vikings never got within 10 points after that point, and eventually went on to win 71-57.
"I saw a team grow up," Kielsmeier said. "We had a lot of experience from our three seniors but had a lot of players who haven't been in that situation yet and was a situation they created. We have a lot of players who haven't played much Wayne State basketball and to be in that situation and to be able to handle it shows the makeup of them as people and was an outstanding performance."
Spencer did have help in the game, especially from Maggie Schulte, who scored 15 points, a career-high herself, all of which coming in the second half.
"Maggie grew up," Kielsmeier said. "She's got a ton of talent and made a lot of big plays down the stretch that you don't expect a freshman to make and she made them. She showed down the stretch the type of player she can be."
Niggeling added 18 more for the Wildcats and Ashton Yossi toughed her way to 7 points after her ankle injury last Wednesday.
"Any time you come back from an injury and don't practice a whole lot, it's difficult and she just gutted it out," Kielsmeier said. "She got fouled hard a couple of times in the second half and she's just as tough as they come and she wants to play and played hard tonight."
The Wildcats won the rebounding battle 41-40 over the Vikings and shot 46 percent from the field, 30 percent from long range and was 86 percent at the line.
The Wildcats move on and will play Peru State on Friday and South Dakota School of Mines on Sunday.