Wildcat men fall to Augustana in NSIC opener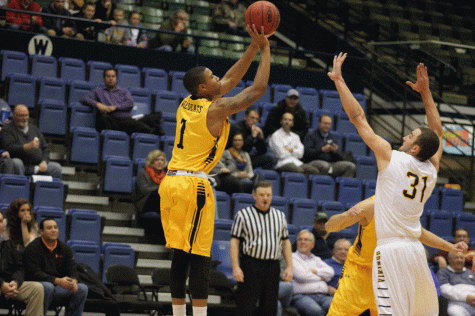 Wayne State men's basketball played tough in the first half, but Augustana proved to be too much in the second half as they pulled away to an 89-71 win in the NSIC opener for both teams in Sioux Falls, S.D.
"I don't think we played any different the second half, they did, they're a top-20 team and we came in and played well against a team that is going to be competing for a conference and regional championship," Coach Brian Dolan said. "Our kids battled and competed tonight, we didn't back down the second half the better team won tonight."
Augustana led the game early until the 13:27 mark where a three-pointer by Jamie Pearson gave Wayne State a 9-8 lead. The two teams traded buckets until the game was tied at 18. The Wildcats went on a 8-2 run to take a 26-20 lead. Augustana went on a run of its own and tied the game back up at 28 with 3:45 to go in the half.
Wayne State regained the lead and led it until the 1:07 mark of the first half when Augustana tied it again at 34, the sixth tie of the game. The Vikings took the lead and took a 38-36 lead into the locker room.
Augustana carried the hot hand into the second half, shooting 61 percent from the floor to carry the Vikings to a 89-71 win over the Wildcats. The Vikings outscored the Wildcats 51-35 in the second half and held Wayne State to 44 percent from the field. It was the 14 turnovers in the second half that plagued the Wildcats, totaling 22 in the game.
Daniel Jansen led the Viking offense with his third-career 30-point game, scoring 33 points on 10 of 17 shooting, 3 of 6 from long range and nailing all 10 free throw attempts.
"You can't take everything away from them and we learned a little bit and maybe we will do things different when we see them three weeks from now," Dolan said. "It's hard to make judgement right now and things are never as bad or good as they seem until we watch the film. No knee-jerk reactions are needed, just need to keep doing what we need to do to get the program where we want to be."
Pearson led the Wayne State offense with 19 points, hitting on 5 of 8 three-pointers, while Jordan Holdsworth scored 12, Patrick Kurth and Trae Vandeberg each had 11 and Kendall Jacks recorded 10.
"Every night it is going to be someone different," Dolan said. "Jamie hit some shots tonight and was really impressive, Kendall did a nice job on Schilling tonight and Patrick did some nice things in the post."
Tyler Nagy struggled, only scoring 2 points on 1 of 3 shooting from the field.
"Tyler was playing large-class basketball in South Dakota high school 365 days ago and how he's playing a team that's going to compete for a regional title and he has to make the mistakes to figure out how to make those plays," Dolan said. "We have to keep everyone on course and keep everyone's head in the game. We still have a lot of games left and I am looking forward to getting back to practice and getting better."
The Wildcats move on to an exhibition game with South Dakota on Wednesday, and then move on to play Northern Michigan and Michigan Tech in Marshall, Minn., over the weekend.