Men's track struggles over weekend
4X400 only first place finish for Wayne State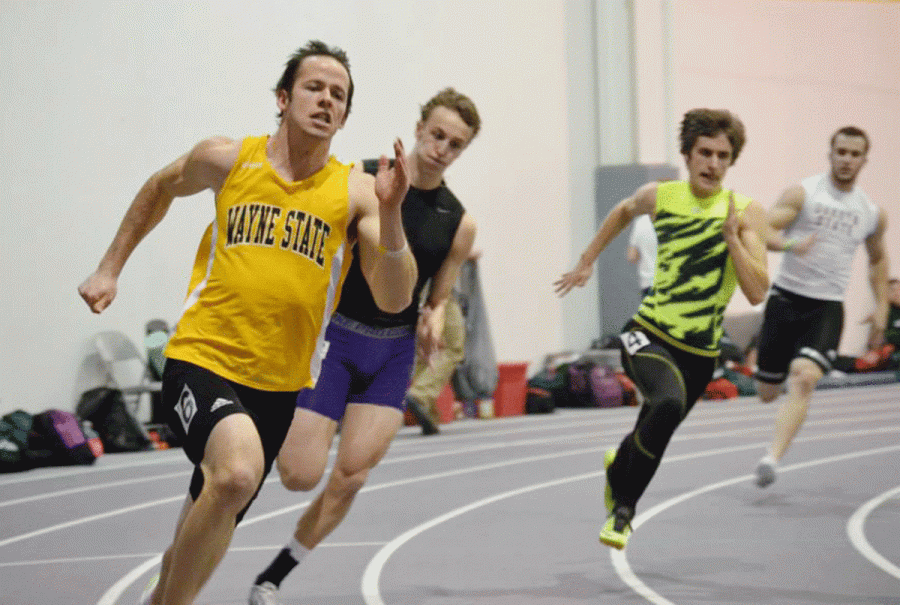 Bradley Dechant, Staff Writer
February 5, 2014
Michael King, Jared Balady, Derek Lahm and Zack Thomsen raced to a first-place finish in the 4×400 relay at the Minnesota State Open this past weekend in Mankato. The quartet won with a time of 3:24.6, collecting the lone first place finish for the men.
"The men's 4 x 400 relay victory was very exciting because three to four teams were fighting for the lead the whole way," coach Marlon Brink said. "Derek was our third leg and got us into the lead for good. Zach held off the other teams for the thrilling finish and win. It was a great way to cap the weekend off."
There was a lot of NSIC competition at the meet, including Augustana, Concordia-St. Paul, Minot State, host Minnesota State, Northern State, Sioux Falls, Southwest Minnesota State, St. Cloud State and Winona State.
"This meet was a good chance for us to face some of our NSIC competition," Brink said. "It was a schedule very similar to the NSIC Championship meet, so I felt like it was a good meet for our athletes to simulate the conditions we will see for that meet in three weeks."
Bryan Dunn received fifth place in the weight throw with a distance of 51' 10 ½".
Dunn was followed by Ryan Messerchmidt in tenth place (48' 6¼") and Joe Warth received eighth in the shotput (46' 10 ¼").
Mickey Doerr battles around the corner against harsh competition in last weekend's Minnesota State Open. Doerr competed in the distance relay with teammates Zach Thomsen, Jared Balady and Adam Hochstein, finishing fifth in a time of 11:06.01.
Nick Schmit and Corbin Marksmeier both finished in the top ten in the 600 meter dash, with Marksmeier in eighth (1:25.5) and Schmit in tenth (1:26.5). Marksmeier also placed tenth in the 60 meter hurdles (8.9 seconds) and Schmit was tenth in the 1,000 meter run (2:44.9).
Thomsen was fifth in the 800 meter run (1:55.8) and Balady finished fifth in the 600 meter run (1:24.7).
Lahm was tenth in the triple jump (43'10").
Adam Hochstein came in seventh in the one mile run (4:34.2) and the Wildcat distance medley took fifth place (11:06).
The men's track team will be competing at the Fred Biele Track and Field Classic at Doane College on Saturday.
Several athletes may qualify for the Husker invite at UNL on Saturday as well.