Track Athlete Spotlight: Logan Moeller
A new track athlete provides a spark for the track team.  
A first-year student from Pierce, Logan Moeller broke the indoor school triple jump record in his first season as a wildcat. At the NSIC Indoor Track and Field championships where Logan broke the record, he also walked away with two medals scoring second in triple jump and fourth in long jump.  
Moeller said the moment felt surreal. 
"I broke the record on my first jump of the day, it just felt like any other jump I didn't know I broke the record with that jump," Moeller said. 
In 2021, Moeller placed first in the long jump and triple jump at the NSAA state meet. But with such talent why Wayne State College? For Moeller, it was a simple answer.  
"Coming out of high school I did not have many offers, and with Wayne being close to home and having a good construction program WSC was a good fit for me," Moeller said.  
The NSAA class B gold medalist had a smooth transition to the college track, finding a stronger attraction to track.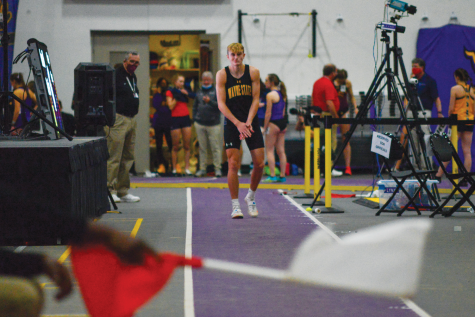 "The level of competition is much higher now, I'm having a lot of fun," Moeller said.  
Moving into the new season brings another goal to Moeller's mind.  
"I have my eyes set on the outdoor record," Moeller mentioned.  
With the goal to be a two-time record holder, Moeller plans to focus on lifting and continuing practicing his fundamentals to hit those marks. 
Moeller started his season last weekend at the Wildcat Invite where he jumped 6.94M in the long jump. This Saturday, Moeller and the Wildcat track team will be in Vermilion to compete at the University of South Dakota.