Dog the Bounty Hunter still in action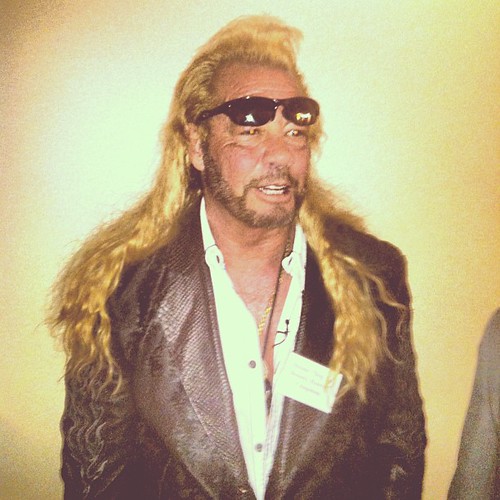 Dog the Bounty Hunter, the iconic bad ass bounty hunter from Hawaii, is still in action at the age of 68 years old. A lot of people take Dog the Bounty Hunter as a joke celebrity bounty hunter, but this guy is legit.
Dog has captured over 8,000 people and at least one time crossed international lines to do it. Dog rose to fame as a bounty hunter in 2003, after his successful capture of Max Factor heir Andrew Luster in Mexico. Factor fled the United States in the middle of his trial on charges of drugging and raping several women. Dog was assisted by his team, which consisted of his son, Leland, and an associate, Tim.
The three bounty hunters captured Luster in Puerto Vallarta, Mexico, where they had been living under assumed names. Dog and his team were thrown in a Mexico jail, because bounty hunters aren't technically allowed to cross international borders because they are not recognized by other countries. They were in jail for two weeks since they weren't allowed to be bounty hunting, but they still got their guy. He didn't get away because he was a fugitive, and Mexico and the U.S. have extradition. Mexican authorities handed over the perp to American authorities, and Dog in his team got out of jail eventually.
"Dog the Bounty Hunter" the American reality television series aired on Sept. of 2013, and rose Dog's popularity. The show chronicled Duane "Dog" Chapman's experiences as a bounty hunter in Hawaii or Dog's home state of Colorado. After Dog the Bounty Hunter ended in 2014, Dog appeared in "Dog and Beth: On the Hunt," a similarly formatted TV show, alongside his wife and business partner, Beth, on CMT. His series "Dog's Most Wanted" debuted on WGN America in late 2019.
Dog the Bounty hunter has also taken personal involvement in the case of Gabby Petito's murder, trying to locate the main suspect, Petito's fiancé, Brian Laundrie. Dog lost a daughter of his own around the same age as Petito in a car accident in 2006. He was already in Florida on a honeymoon with his wife, when people began reaching out to him to investigate Laundrie's disappearance.
Laundrie, 23, is wanted on bank fraud charges after his 22-year-old fiancé was found death in Wyoming last month while the two of them were traveling together.
In an interview with the New York Post, Dog promised to catch Laundrie before his 24th birthday on Nov. 18. Dog has been searching on the islands off the west coast of Florida with his team for Laundrie. Searching with Dog is his wife, Francine, and her son Greg, and he has assembled a team of ex-law enforcement and hunting dogs. He has already received many tips on his 833-TELLDOG hotline, many of which point to Laundrie being somewhere along the Appalachian Trail. An anonymous person flew a banner under Dog's name over the area the team was searching for saying, "Aloha Brian Laundrie – Dog." Dog came forward and gave the anonymous person credit for the funny banner, which he sadly had no part in.
Dog the Bounty Hunter is on the case of Laundrie and has put up $10,000 to the standing reward money, which stood at $170,000 before Dog's contribution. Most funds have been donated by private individuals supporting Petito's family. Dog the Bounty hunter continues to be a bad ass and a beloved celebrity to many.