Baseball team has a 2-2 weekend with Duluth
Hang on for a minute...we're trying to find some more stories you might like.
Wayne State Baseball came up with two victories in a four-game series against the Minnesota Duluth Bulldogs.
Junior Kyle Thompson said the Wildcats prepared by working on the opposite field approach, knowing that UMD was going to throw three lefties.
"We worked on really taking that outside pitch and driving it the other way," said Thompson. "We have a leftie coach, so he threw to us all week in order to get prepared."
The opening game saw the Bulldogs take the 4-2 victory over the Wildcats. UMD scored one run in the second, two in the third and one more in the fourth off Wildcat starter sophomore Aidan Breedlove.
The 'Cats had just one hit, a third inning single by sophomore Jackson Petersen, entering the seventh inning.
Freshman Andrew Hanson opened the seventh inning with a double, followed by a single from senior Tanner Simons.
The Wildcats avoided the shutout when UMD had a throwing error when Simons stole second base, allowing Hanson to score. Simons later scored on a wild pitch with two outs to make the final score of the first contest 4-2.
"The biggest challenge they presented was the ability of their left-handed pitchers to change speeds and keep us off balance," said Thompson. "They located their pitches well and didn't throw hard at all which made it difficult to stay in time with them. They didn't really have anything overpowering, they just kept us uncomfortable."
The Wildcats then turned up the heat offensively to secure an 8-2 victory over the Bulldogs.
UMD scored two runs in the first off starter freshman Aaron Ras for an early lead.
Wayne State then took control of the game in the fourth inning with seven hits and seven runs, including a grand slam from Hanson. Other key hits in the fourth were RBI singles from junior Kyle Thompson and junior Garrett Graveline as well as an RBI double from Petersen.
The 'Cats added another run in the fifth inning on a double from junior Jake Lorenzini to close out the scoring.
WSC turned around the following day to face the Bulldogs again for two more contests, where they split with Minnesota Duluth once again.
Sophomore starting pitcher Hunter Wienhoff fired a one-hit shutout to lead the 'Cats in a 4-0 victory Friday.
Wienhoff allowed just a second inning single, but WSC turned a double play to end the inning.
"We overcame any challenges from UMD by having some great outings from our own pitchers," said Thompson. "Aaron Ras and Hunter Wienhoff had great performances on the mound, and as hitters, we stayed aggressive and put together some big innings that allowed us to stay in the game."
Offensively, WSC scored all four runs in the third inning on four hits with two Bulldog errors. The key hit came from a bases-loaded clearing double from junior Bryce Bisenius. Bisenius then scored when junior Travis Miller singled to left field and advanced home on a fielding error from the Bulldogs.
Wayne State put out five hits in the game. Bisenius had the bases loaded double and three RBIs while Simons ended two for three with a double and a run scored. Miller and junior Zane Zitek each contributed singles.
However, the second game saw Minnesota Duluth salvage the split in the series with a 6-2 win over the Wildcats.
UMD scored single runs in the first and second innings to create a 2-0 lead and added three more runs in the sixth inning to chase Wildcat starter junior Charles Hasty for the 5-0 lead.
WSC scored both of its runs in the bottom of the sixth.
Hanson led off the inning with a solo home run with Miller singling and later scoring on a wild pitch for the second run.
Duluth added a run in the top of the seventh inning to make the final score 6-2.
"Minot is going to have more right handed pitchers, so each new team presents new challenges," said Thompson. "Getting outside in some nice weather and getting plenty of reps is what will get us ready for this coming weekend."
Wayne State resumes play Friday and Saturday, facing Minot State in what was supposed to be a road series but will now be held in Wayne due to weather and field conditions.

About the Writer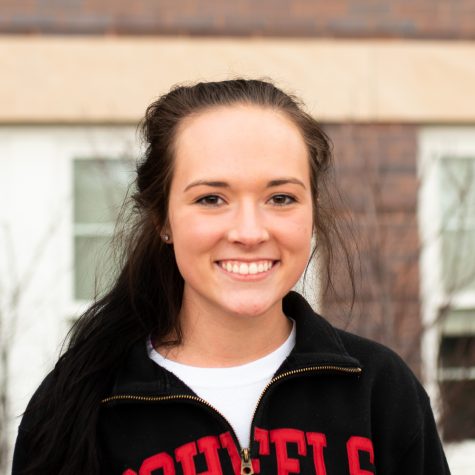 Rachel Vogt, Sports Editor
Rachel Vogt is from Kennard, Nebraska and is a 2016 graduate of Arlington High School. Rachel is a a senior majoring in journalism with a minor in Spanish....