Lawson, Penn and Atwood impress at WSC's 'outstanding' poetry slam
Hang on for a minute...we're trying to find some more stories you might like.
Wayne State College hosted another successful Poetry Slam on Thursday, March 1, that was described by organizers as "absolutely outstanding."
Vito Cole was the "Slam Master," meaning he was in charge of gathering donations from downtown businesses, getting people to make posters to advertise and promote the event, among many other things.
"Though I thought we would have had a few more readers, but I think the quality of the poems and presentations that we saw was absolutely outstanding," said Cole. "I think these slams are a really good way for people to show individualism and passion, and I think it is also a way for the LGBTQ community to express themselves because everybody gets a voice at these slams we host."
The Poetry Slam attracted 20 readers who had a wide variety of original poems to present to a large and interactive audience.
`"It's a way for people to get some attention for the work they are doing, and I think that people like presenting their work in a fun and relaxed environment," said Cole.
The winners of the slam were Chantal Lawson, first, Taylor Penn, second, Lonn Atwood, third, and Ezra Jude, fourth. The judges were Twyla Hansen, Nebraska State Poet, Bradford Tice, professor at Nebraska Wesleyan University, and Sharon Cole, graduate assistant for the WSC Press and winner of Poetry Slam 38.
Among the slam readers was junior Kjersten Schuttler. Schuttler has participated in every slam hosted since her freshman year.
"This was the first time that I made it past the first round, so I was really proud of myself for that," said Schuttler. "I wanted to read at the slam because I've always really liked reading poetry, but when I was younger I had a hard time getting inspired to write or being satisfied with the things that I did write."
Schuttler wrote a poem her freshman year here at Wayne State that was accepted into the 50th anniversary edition of the Judas Goat.
"I had finally written this poem that I was really proud of," said Schuttler. "It was about sex shaming and the double standard that we place on girls versus boys. When I heard about the poetry slam, I figured, 'why not?' It had a good message that I wanted to share and I thought it was pretty funny and sassy, so I decided to read it."
Schuttler was surprised by how many other people liked the poem when she read it at a Poetry Slam.
"I got a lot of laughs and applause while I was reading and I had a whole bunch of people come up to me afterward and tell me how much they loved it," said Schuttler. "I was so flattered that other people liked something that I had written."
Schuttler felt a sense of pride reading her work on the podium in front of that audience.
"The feeling of having everyone in the room listening and appreciating something I had worked so hard on and the pride of having so many people tell me they liked it afterwards was enough to hook me on slamming, and I have read at every slam since," said Schuttler.<>/p>
Schuttler said reading her work in front of an audience and having them appreciate it is very gratifying.
"It's a great feeling to have someone say that they like something that I spent so much time wondering about and thinking 'is this good?'" said Schuttler. "I know that 'good' is a really loose metric to gauge poetry on, so you can't ever really write something that everyone will unanimously agree is 'good,' but having even a few people tell me that they like something I wrote is such a rewarding feeling, and making it to the second round at this last slam was incredible. It definitely gives me a lot more confidence in myself and my writing."
WSC hosts Poetry and Fiction Slams for writers to be given the opportunity to express their thoughts and opinions through their works to an appreciative audience.

About the Writer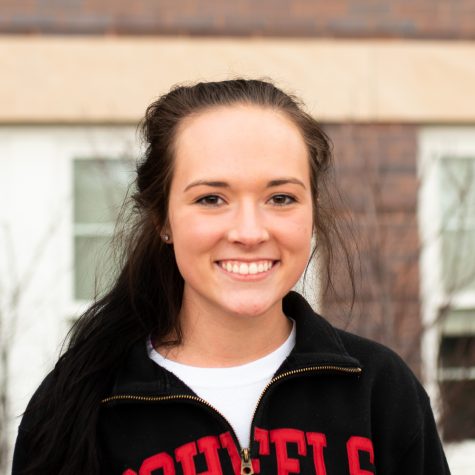 Rachel Vogt, Sports Editor
Rachel Vogt is from Kennard, Nebraska and is a 2016 graduate of Arlington High School. Rachel is a a senior majoring in journalism with a minor in Spanish....