Indoor track season starts off with a bang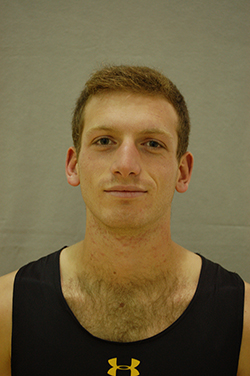 Antoine Bardou's record-setting effort highlighted the Wildcats' performance at the Holiday Inn Invite in Lincoln on Friday and Saturday. The highly competitive meet was held at the Bob Devaney Sports Center and included Division I teams such as University of Nebraska-Lincoln, Oklahoma State, Drake and others.
Bardou, who is coming off a strong cross country season, shattered the Wayne State school record in the 1,000-meter run by five seconds. The previous school record was 2:31.89, set by Ryan Williams in 2007.
Bardou easily beat that mark with an impressive time of 2:26.63, which was good enough for third place. Bardou ran in the second of three sections and got off to a conservative start. But about halfway through the race, he took the lead and began to pull away, crossing the 800-meter mark with an impressive time of 1:57.7.
He continued to pull away over the last 200 meters and set the time to beat. Two runners beat his time in the final section.
"I'm very happy with how I did," Bardou said. "It's nice that I'm the record holder at Wayne State. I've had my eyes on that record since the beginning of the year."
Bardou was a junior college national qualifier in the same event when he competed at Indian Hills Community College.
Robert Sullivan also captured a third-place finish in the 60-meter hurdles with a time of 8.30 seconds. Other notable performances on the men's side were Braxton Adams and Alvyns Alcenord, who both made it to prelims in the 60-meter dash. Adams was 14th with a time of 7.06 and Alcenord was 28th with a time of 7.24.
Josh Spenner was sixth in the pole vault (4.46 meters), Matt Nemec was seventh in the weight throw (15.70 meters) and Brady Metz was eighth in the triple jump (14.31 meters). The distance medley relay team (1200-400-800-1600) of Nick Fly, Nathan Pearson, Nick Schmidt and Bardou finished seventh with a time of 10:28.12.
"We had a decent meet overall," Head Coach Marlon Brink said. "There were some very good performances overall—Antoine in the 1,000, Robert in the hurdles and Brady in Triple Jump. The distance medley relay ran well; sub-10:30 was a good time."
Michaela Dendinger had another strong performance in the weight throw to lead the women's team. Her throw of 17.39 meters was good enough for a second-place finish—the highest of any Wayne State athlete at the meet. Melissa Kroll qualified for prelims in the 60-meter dash. She finished 25th with a time of 8.27 seconds.
"Overall it was good to get our season restarted," Brink said. "There was very good competition, which is good for our team. It's good to compete against teams like Drake, Nebraska and Oklahoma State, it gives us good experience."
The meet was Wayne State's first competition in over a month, when they competed at a preseason meet at South Dakota State in Brookings. The Wildcats will be heading back to Brookings Friday for the SDSU open.