2 Chainz shines bright with new mixtape
Hip-hop artist works with Mike WiLL Made-It, Zaytoven and more to create new songs
The new year has gotten off to a blazing start in the hip-hop world, as stars such as Future, Wiz Khalifa and 2 Chainz have already dropped full-length albums (Future just released his second project Friday).
Though his star was the smallest, featuring only six songs, 2 Chainz's mixtape, "Felt Like Cappin," has shone the brightest.
The hair weave killer released the mixtape without warning on Jan 27, in anticipation of his upcoming collaborative album with Lil Wayne, "College Grove," slated for a first quarter release.
The first song is also titled "Felt Like Cappin," which in this context basically means the eccentric rapper felt like ballin' out.
In the intro, 2 Chainz repeats that he felt like cappin (he says "felt like cappin" eight times in a row at one point), pausing to drop a solid warm-up verse for what's in store.
The highlight of the tape, from a production standpoint, comes on track two, "MF'N Right." Mike WiLL Made-It and Zaytoven joined forces to create a smooth beat persisting mainly of a piano, a flute, snare and bass.
The Real University president rides the wavy beat in a way only he can, and even calls the backseat of his car a Klondike bar, since he has himself two black women with a white girl in the middle seat.
Listeners got an inside look at what to expect from College Grove, as Weezy joined his old friend for "Back On The BS."
The lyrical content was of no importance, but the ferocious flows of both artists (Wayne particularly) have raised expectations for the upcoming collab.
After "Not Invited" sounded like it was not inspired, the dark and gritty beat of "Mindin' My Business" might normally be a challenge for 2 Chainz, who usually finds success rapping funny and clever nonsense and not the usual sharp lyrics that normally accompany these beats. But he navigated it pretty well.
This set him up for the finale, "This Me, F*** It," produced by possibly the most notable producer in rap history, Timbaland.
Tity Boi effortlessly switched back and forth from a traditional rhyme scheme to a more complex scheme, with four syllable lines and all four syllables rhyming in pairs.
The average person may hear an average, silly 2 Chainz song and assign him into the stereotypical category of "dumb rapper."
That couldn't be further from the truth, as he was Salutatorian of his high-school class, before attending Alabama State University on a basketball scholarship for a year before the rap game came calling.
His intelligence shines in his vivid vocabulary and intense imagination, and when paired with sizzling beats, his music provides maximum entertainment. And this was definitely the case in "Felt Like Cappin."
This year is shaping up to be a big year for the Atlanta native, with the previously mentioned College Grove coming soon, as well as his third solo album, BC (Before Chainz), also coming in 2016.
For BC, the 38 year-old will be rapping under his former moniker Tity Boi, which he switched from at the start of the decade.
About the Contributor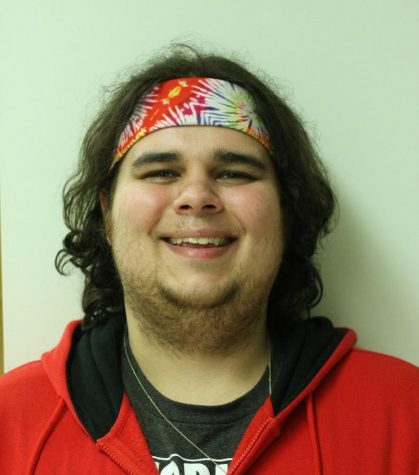 Mason Schweizer, Opinion Editor
Mason Schweizer is a senior majoring in journalism.

He is currently serving as the opinion editor.

He loves his Chicago sports teams and the Mod...