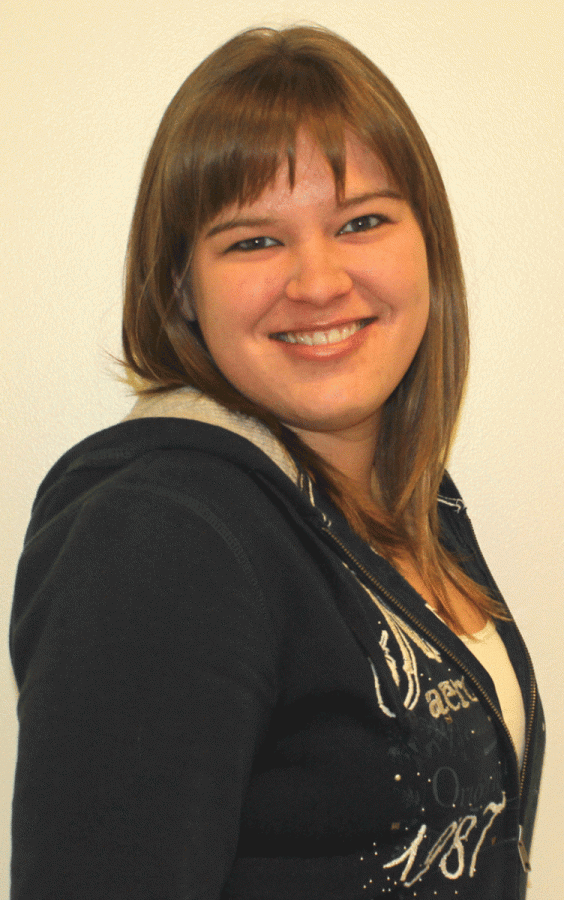 Alissa Woockman is a Photo Editor, Staff Writer, and Photographer for The Wayne Stater. She is a Junior majoring in English.
She can quote tons of movies and songs with ease. Except for country, "no one cool likes country."
"I hope to work for an advertising agency or a magazine, and write articles about cool locations."
Alissa Woockman, Photo Editor/Staff Writer/Photographer
Apr 15, 2015

Piersanti wins Graphis Gold Award for 'Indian Ocean Tsunami 2004'

(Media)

Mar 25, 2015

Students learn the impact of words

(Media)

Mar 18, 2015

Vermont court records show Carpenter, Bunting sued for giving bonuses to nonunion employees

(Media)

Mar 04, 2015

Hardest job you'll ever love

(Media)

Feb 25, 2015

Finding the answer for an AIDS-free generation

(Media)

Feb 25, 2015

Dustin Lynch scheduled to perform this spring

(Media)

Feb 11, 2015

Casino Night: A Black Tie Affair

(Media)

Dec 03, 2014

Plains Writers delight students

(Media)

Dec 03, 2014

Poetry Slam XXXII hits the jackpot

(Media)

Oct 29, 2014

A part of the Sci-fi world

(Media)

Sep 24, 2014

Dalal recounts trip to China

(Media)

Sep 17, 2014

Firefighters respond to Neihardt Hall fire alarm

(Media)

May 01, 2014

Campus crime numbers down in recent years

(Story)

Apr 16, 2014

Another successful year

(Media)

Apr 16, 2014

Bringing spring concerts back

(Story)

Apr 14, 2014

'Everyone has the right to feel safe'

(Story)

Mar 31, 2014

Online Stater on its way

(Story)

Feb 12, 2014

Doane Choir returns to WSC

(Story/Media)

Feb 11, 2014

PRIDE sponsors annual drag show

(Story)