Report ranks Nebraska as eighth best state to work after graduation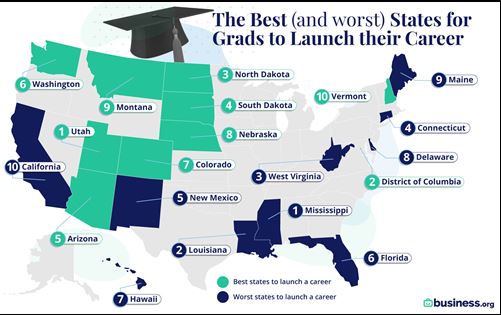 Millions of Americans have lost their jobs as a result of the ongoing COVID-19 pandemic, some of them temporarily and some permanently. Some families have been left wondering how they will put food on the table every day and keep a roof over their heads.
Individuals who are already in the workforce are not the only people whose future may have been put in limbo as a result of the pandemic, however. College students across the country have had to rethink their career paths because their preferred field was hit significantly hard by the pandemic.
Fortunately for college students in Nebraska, the state ranks among the best in the United States for new graduates to launch their career, according to a recent report done by business.org.
According to the report, since March, unemployment rates rose the most for people under the age of 24, up to 23.2 percent. For people aged 25 to 34, unemployment reached 13.4 percent. This has resulted in many recent graduates and degree-holders needing to find work.
According to the report, 28 percent of finishing college graduates are rethinking their career paths because of COVID-19.
Business.org used the following methodology to determine which states are currently the best for students to work after graduation, and how much each method factored into the final report:
The first factor, according to the website, was the median rent as a percentage of household income, which amounted to 25 percent. Compared to a state's median income, higher rent means it's harder for young professionals to buy the other things they need and save for the future.
The second factor, percentage of jobs requiring a bachelor's degree or higher, also amounted to 25 percent. States with a higher percentage of jobs that require a bachelor's degree or higher mean you'll have more opportunities that will match your education.
The third factor focused on an employment growth projection of 20 percent from 2019–2021 in percentage points. States emerging with new businesses will need new workers to fill roles. And even if a person's first job in a new state does not work out, chances are if it has a high growth projection, it will be easier to land a new job.
Unemployment rate in 2018 for people aged 25 to 29 was estimated to be about 20 percent. A high unemployment rate is not something to willingly step to, but it may be unavoidable for specific jobs or dream spots. A lower unemployment rate in this age range means better employment for new graduates.
The report also measured the change in unemployment rate from April to July 2020, which amounted to 10 percent. Information was obtained regarding how much the unemployment changed in each state following the pandemic's outbreak and the subsequent shutdowns and employment comebacks. A lower value shows a decline in unemployment during this period.
In Nebraska, the average income spent on average rent is 26.4 percent, and the employment growth projection for 2019-2021 is 1.8 percent. The report showed that 4.6 percent of Nebraskans between the ages of 25 and 29 are unemployed.
Utah ranked as the number one state to start a career after graduation, while Mississippi ranked last. Some of Nebraska's bordering states – South Dakota, Colorado and Iowa – also ranked high on the list at numbers four, seven and 13, respectively.
The most recent report further exemplifies the quality of living in Nebraska. Earlier this year, U.S. News & World Report released its "Best States Rankings" based on 70 different metrics, and Nebraska came in ninth on the list.
In January of this year, WalletHub released a report ranking the best states to raise a family. Nebraska again fell in the top 10, ranking eighth on that list. This ranking was based on health and safety, quality of education, affordability and socioeconomics.
Where somebody lives affects the direction of their career and life. There is a lot to juggle between working, making rent and finding stability at a job during the COVID-19 pandemic, but some states make it easier than others.