Staff Stories:Brandon Ziska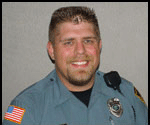 He is the man we call whenever we get locked out of our cars, need in a building or want a ride to your dorm in winter.
Brandon Ziska is a campus security and safety officer of Wayne State College.
Ziska started here as a student security worker and worked his way up. He has worked full time at WSC for eight years.
"Every day is different, and I never see the same thing in two weeks," Ziska said.
Ziska is mostly in charge of working the office and answering phone calls as needed.
"I am also a certified RAD instructor, which is a free, self-defense class we offer here on campus," Ziska said.
He is also second assistant fire chief for the volunteer fire department and that keeps him busy.
"I am an adrenaline junkie and helping people is my adrenaline because you have to kick into survival mode when all breaks loose," Ziska said.
Ziska graduated from Wayne State in 2007 with a bachelor's degree in criminal justice and has minors in business management and emergency management.
"It's been really nice that I can use my degree and work in the place that I received my degree," Ziska said. "It's kind of like a pay back to the college for what they gave to me.
"I had a lot of great mentors in the criminal justice department with Dr. Campbell, Dr. Karsky and Mr. McCarthy. They made sure that was what you really wanted to do in your field, and they didn't sugar coat it. They made sure you knew what was going to happen and what jobs are really like."
He loves his co-workers and Wayne State family.
"It feels great to be in a place that made me feel like home from the very start," Ziska said. "It's very close-knit. Some of my best friends are also employees of the college that I met working through the college and community."
Ziska is married to his college sweetheart, Leslie, and they have two children, Maddox, 6, and Lexi, 3. They have been married nine years. His wife is a database manager for Beck Ag in downtown Wayne.
"We came to school, got married and just never left," Ziska said.
When Ziska isn't working, he enjoys hunting and fishing, spending time with his kids and restoring a classic car.
But a lot of his time is spent helping people with the fire department or campus security.
"I enjoy helping people even if it is as little as filling up a flat tire," Ziska said. "We helped with the tornado relief and that was the biggest incident that I have helped with.
"That's the nice thing about this job is that I don't do the same thing everyday."