Wayne transplant revives local cinema
Hang on for a minute...we're trying to find some more stories you might like.
Melanie Loggins knew she had a passion for film. After an abundance of schooling and multiple cross-country moves, she found herself here in Wayne, doing something she loves while also providing something to the community to enjoy.
Loggins grew up in Houston, Texas and initially intended on being an English major, but soon developed a love for film as an undergrad and decided it was something she wanted to pursue. Loggins studied creative writing and film while she attended grad school in North Dakota, finishing her coursework in 2000.
After residing in North Dakota, Loggins moved with her husband to Florida where he did his postdoc work. Loggins enjoyed her time there, but some aspects of life in the "Sunshine State" she didn't foresee.
"I ended up being a stay-at-home mom for a while, which I never anticipated," Loggins said.
It was the weather, however, Loggins found herself having to adjust to at times.
"We were there for Hurricane Katrina, and a few other hurricanes that hit the Florida coast," Loggins said.
In February of 2008, Loggins' husband decided to interview for a job here at WSC, but at first, Loggins did not know if Wayne was the right fit.
"I don't know if I can live in a town that small," Loggins said. "My husband came back and he had loved Wayne State and he was super excited and he was trying to sell me on the town, and one of the things he said was, 'But hey, there's a movie theatre in town!'"
Loggins and her family decided to make the move to Wayne during the summer of 2008. The then "Twin Theater" had closed abruptly that April, much to the disappointment of Wayne residents.
However, the following summer, Loggins was walking downtown during "Chicken Days" on a Saturday and saw a sign on a window of the closed theater that read, "Coming soon, a theater near you." That is all Loggins needed to see to start taking action.
"I went in the following Monday morning to the Chamber of Commerce," Loggins said. "I had never really walked in to a Chamber of Commerce like that before and I said 'Hey, I don't know you and you don't know me and I don't know what's going on with that movie theater, but somebody's doing something, and I need to be involved.'"
The Chamber of Commerce took down some of Loggins' information and told her they would pass it along. A couple months had gone by and Loggins had not heard anything, but was convinced she had found her niche with the theater in Wayne and decided to make a phone call to the Chamber of Commerce. They gave her a phone number to call and when she did, the individual who answered was the new owner of the movie theater. He and Loggins communicated and he was thrilled that she was interested in being involved and notified her that he closed on purchasing the theater.
That fall (2009), a group of business owners had gotten together and decided there were changes that needed to be made to the movie theater and started raising money for renovations and upgrades. Loggins saw this as a perfect opportunity to help out, as she had an abundance of time on her hands.
"I did basic stuff like make our first website, go get a PO box, get an email address," Loggins said. "I had always been up front, and someday, somebody's going to have to run this place, and I'd like it to be me."
Demolition and renovation of the theater began during the fall of 2009 and it was time for ownership to begin the interview process and think about who would be in charge of the theater once it reopened. Loggins seemed to be the perfect candidate to manage the theater, especially with the interest she had shown in the theater restart and all the volunteer work she did to help kickstart the project.
"I did apply for my job," Loggins said. "I would like to think I was a shoe-in, in part because I had all the e-mail passwords."
In July 2010, Loggins officially started her job as Theater Coordinator at the Majestic and holds the same position today. She is very invested in the theater's operation and appearance and has put a lot of her own money into the decoration of the theater. She doesn't believe it has the same feel and environment as many other small-town theaters do.
"People walk in and they say, 'Oh, this is really nice.' They walk in and it's modern and beautiful and clean," Loggins said. "Whatever you think about a small-town theater, I encourage people to put that out of your mind. My attitude has always been that once you walk in those doors, you could be in any big city in the country."
Shows vary at the Majestic, and movies are typically shown Thursday through Sunday every week, generally for one weekend only, and in some cases, multiple weekends. Some popular movies are given an abundance of screenings and could be shown up to eight or nine times throughout the weekend.
It makes for a busy schedule for Loggins, but it is certainly something she enjoys doing. She is also a professor at WSC, teaching film classes for the last five years and a freshman experience class she started instructing this fall.
Loggins had resided in Texas, North Dakota, and Florida, and eventually found herself in Wayne, Nebraska. One thing she always took with her was a love of film and that love helped open doors to the Majestic Theatre, and has continued bringing smiles to many members of Wayne and surrounding communities.
About the Writer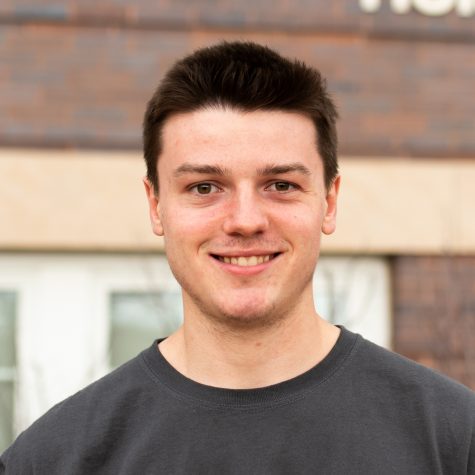 Austin Svehla, Assistant Sports Editor
Austin Svehla is from Columbus, Nebraska and graduated from Scotus Central Catholic High School in 2016. He is currently a junior and is majoring in Electronic...