One year later: We are grateful'
One year post destruction, the landscape of Wayne has gone from jagged wound to a neatly stitched scar.
It may have been 1.38 miles wide and rated as an EF-4, but last October's tornado wasn't able to rip the spirits of local residents and business owners apart.
Pat Garvin and his employees at Innovative Protectives Incorporated (IPI) lost half a day's production and were spread all across Wayne in various buildings between storage, sewing and assembly.
IPI designs and manufactures protective sports equipment. The padded mats used in pole vault pits, on the fronts of free standing basketball hoops and in gyms are all offered by IPI.
IPI's busiest season is track and field, but the company stays plenty busy with volleyball and football, so staying in production was key.
"We worked out of the old bank downtown and had things stored in the old city hall building," Garvin said. "Production-wise, we never claimed a dime in income loss from the tornado."
Within three weeks, Otte Construction had a 4,800 squarefoot building started for the company. The building, which has been used since early spring, is one of two on site. The loading dock is currently under construction on the main building—having been set back several times due to the excessive rains this summer.
A second building, only partially constructed, will house a wood shop and allow for overflow and extra storage.
"It's more efficient, or it will be when it's all done," Garvin said.
Garvin even managed to find work for one of the displaced Pacific Coast Feather Company workers after she found herself jobless due to the company moving its plant to North Carolina.
Grateful to have such good neighbors, Garvin gave praise to Otte Construction, saying the company jumped to help him.
Another neighbor of IPI's is Grossenburg Implement. The implement lost all of its buildings as well as basically all of the equipment on the grounds.
"Everything was totaled. All but three trucks that were off site," store manager Dave Olson said.
Grossenburg was forced to use five different temporary buildings, but the company was back in business by Monday.
"We actually purchased new trucks on Saturday—had to have trucks to do service calls with," Olson said.
Within three weeks, there was a 5,000 square-foot building erected on Grossenburg's property and by the end of January, the steel for the large building arrived.
The new building measures an enormous 58,000 square feet. This is about the same square footage as the company had prior to the tornado, but now it's all under one roof, rather than spread out between four buildings.
"We moved in Aug. 1, but we still have construction going on. Our useable, workable shop space is twice as much as we had before—around 35,000 square feet now," Olson said.
Grossenburg's insurance company was able to take care of all the destroyed equipment with an online auction. The items sold to places all over the country and some even went into Canada.
But the equipment wasn't the only thing at Grossenburg when the tornado hit. Twenty employees were just closing up shop as the storm rolled through. All twenty of those people managed to escape harm's way and are still employed by the implement.
Unfortunately, there were also homes in the path of last October's tornado, homes with families in them. Mark and Connie Hanson were living south of Wayne on Highway 15 before the tornado struck their home. Today, the Hansons are finishing out the last few weeks of the rental agreement as their new home nears completion.
The Hansons were home Friday, Oct. 4, hanging out before heading into town to watch Wayne play its home-coming game when the bad weather started up.
Mark was just about to head out to their shop to feed two of their dogs when the power went out.
"Our son had called, but we didn't really take it serously. He's a worrier," Connie said.
The couple decided to head to the basement just to be safe, and on the way, Connie's ears began to pop with air pressure changes. What started with initial thoughts of roof damage disappeared when the couple tried to come out of the basement, only to find the stairwell blocked by cabinetry and a freezer.
Luckily, a group of storm spotters were on site within moments to help get the Hansons out of their basement.
"Every time you tell the story the time gets shorter, but if I sit and think about it, honestly, they had to have been following it. They were there in a few seconds after it passed," Mark said.
The couple's property sustained heavy damage. They lost entire sections of their home and garage, but the cars still sat in their designated stalls.
The tornado had cut a diagonal line through the kitchen, completely destroying some cabinets and leaving some untouched.
A small glass decorative pumpkin had sat on the counter prior to the storm. When the couple surveyed the damage, it still sat there with only one small defect: part of the tag attached to the stem had busted off, but the words "be grateful" were still visible.
"This is staying with us forever," Connie said of the decoration. "We are grateful."
The Hansons are currently on the downhill stretch of their new home's construction. They decided to purchase a lot in town and sell their acreage. The decision maker? The trees.
"The trees being gone really helped make that decision for us. They were the charm of that place," Mark said.
Both remarked how building a home was a huge project, but they felt it was good for them to have a focal point to work on.
"I'm excited for the holidays. Last year we didn't even put up a tree," Connie said, "and that was hard. Christmas is my favorite holiday, so it will be nice to be done before the holidays."
Rebuilding has renewed spirits and given business owners and residents alike something to look forward to. This common purpose has united them in a way nothing else could have.
About the Contributor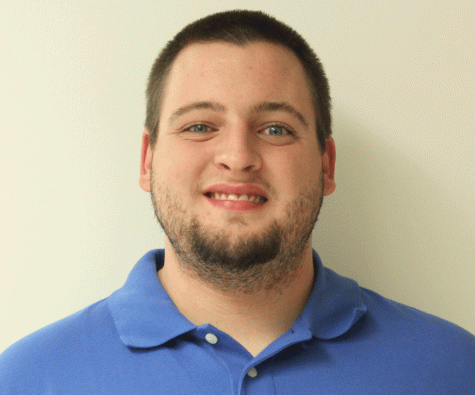 Richard Rhoden, Spring 2015 Editor in Chief/Sports Editor; Fall 2014 Sports Editor
Richard Rhoden is the Sports Editor at The Wayne Stater. He is a senior whose major is Journalism.

"Anything you need to know comes from Mr. Roger's...