Plains Writers Series holds first spring semester event
The Plains Writers Series held its first event for the spring semester on Thursday, March 3 at 2:00 p.m. in the Humanities Lounge.  
 The event, which showcases Midwest writers and has been held on campus since 1977, had Kassandra Montag and Lucy Adkins read poems from their latest books, said Chad Christensen, a language and literature professor at Wayne State College and managing editor for WSC Press.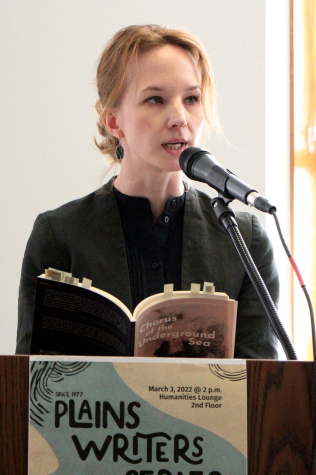 "We want to be an outlet for regional and local writers so they have a venue to share their work," Christensen said. "A lot of other colleges bring in famous writers, which is awesome, but we want to make sure that the region knows there are a lot of great writers here."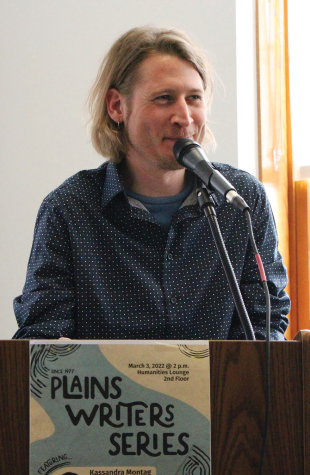 Montag, from Omaha, read from her debut poetry book "Chorus of the Underground Sea" which was published by WSC Press in November 2021. Her debut novel "After the Flood" is being developed for television and has been published in over fourteen languages.  
Montag said that her poetry book was ten years in the making and is grateful for WSC Press for publishing it as well as other high-quality works from the region.  
"I started writing in undergrad, and it's been ten years in the making, publishing in magazines and literary journals," Montag said. "I waited until I had a strong collection to put into a book."  
Adkins, from Lincoln, read some of her previously published poems, as well as from her first full-length book of poetry "A Crazy Little Thing" that will be published by WSC Press this spring. She is also the recipient of the 2021 Nebraska Book Award.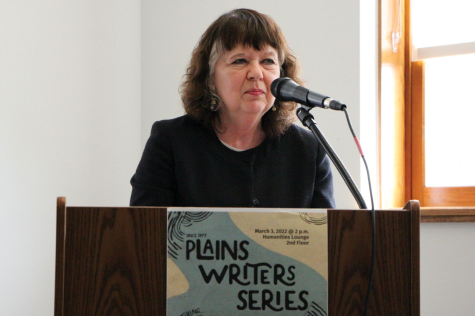 Adkins said that the inspiration from her poetry comes from everywhere.  
"I think just whatever is going on in the world or in my life, my memories, sometimes the sight of something like in nature or a piano," Adkins said. "It comes from everywhere."  
Both Montag and Adkins said they hope the poetry they shared can reach out to everyone.  
"For me, poetry seeks to say the unsayable, a place where you can talk or feel things you might not normally," Montag said. "I want to be a portal to a place where people can think or feel things more deeply."  
"I want my poems to be accessible so they can speak to everyone," Adkins said. "I hope they can have a little fun with them, and they can find some truth in them from their past or now."  
Anna Mayes, a WSC freshman who attended the reading, said she enjoyed the event because it brings people to read their poetry and other works to campus.  
"This event was cool because we get to bring in outside poets to read their work," Mayes said.  "You don't have to love poetry to think that's neat."  
There will be two more Plains Writers Series events this semester, one on April 14 featuring poet Christine Stewart-Nuñez and one on April 28 featuring author Tosca Lee.