Novel Coronavirus continues to spread
World Health Organization declares global emergency worldwide amid outbreak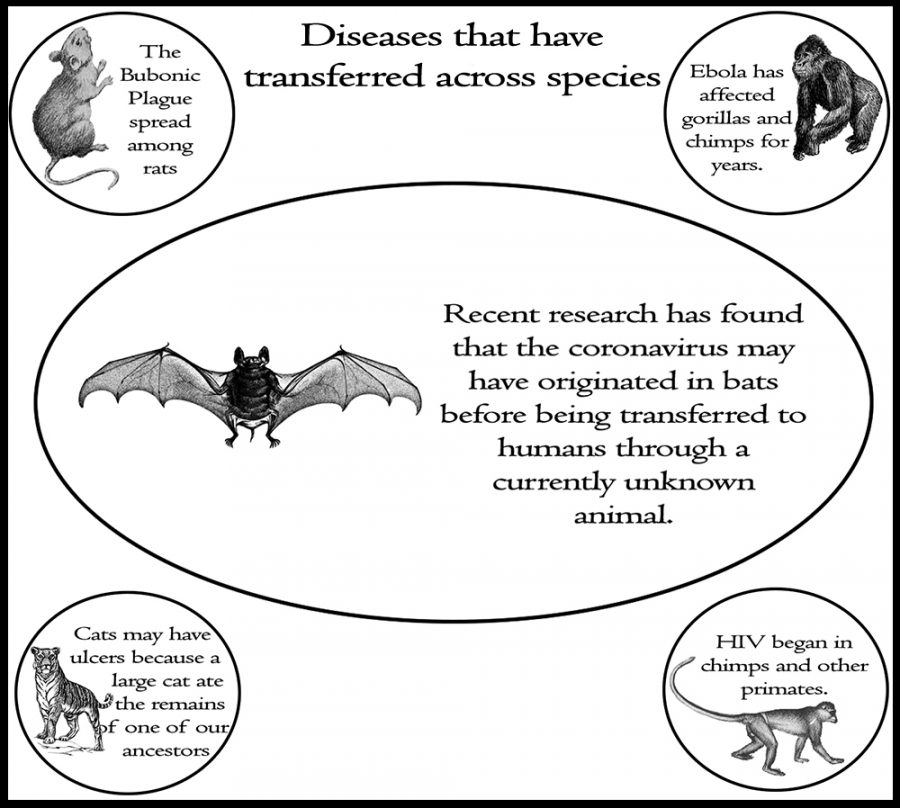 Whitney Winter, Staff Writer
February 5, 2020
According to the New York Times, the World Health Organization has declared a global emergency of international concern as the coronavirus outbreak continues to spread around the world.
With the coronavirus in Wuhan, Hubei Province, China, the Centers for Disease Control and Prevention is closely monitoring the outbreak of this illness. Nearly 10,000 cases nationally have been reported according to WHO.
The CDC classifies the 2019 Novel Coronavirus (2019-nCoV) as a respiratory illness; initially reported to be linked to a large seafood and animal market. At first, the virus was suggested to spread animal-to-person, but new reports show a number of contaminated people have not been exposed to animal markets, indicating person-to-person spreading. "Coronaviruses are a large family of viruses that are common in many different species of animals, including camels, cattle, cats, and bats."
According to the South China Morning Post, in an article published Jan. 27, "thousands of people from Wuhan, the epicenter of the deadly coronavirus outbreak, had flown to Hong Kong, Thailand, Singapore, and Japan before the mainland Chinese city was locked down…"
Wuhan Mayor Zhou Xianwang said about 5 million residents had left the 3,280 square mile city before the lockdown began, which is nearly half of the city's 11 million population.
The South China Morning Post said Jan. 10 was the first day of a 40-day annual homecoming rush for the Lunar New Year. This is considered the largest annual human migration, with hundreds of millions of people visiting China. Wuhan has 89 universities and colleges, with more than 1.3 million students attending, and several thousand from abroad and from Hong Kong.
"Pressure is mounting for local leaders to be held accountable for their response to the Wuhan coronavirus outbreak, in the central Chinese province of Hubei," Laura Zhou, an author for the South China Morning Post, said.
The South China Morning Post has a widget that periodically updates the totals of cases, deaths and recovered cases. As of Tuesday, Feb. 4, there was over 20,000 cases total. Four hundred twenty-seven deaths in China, Hong Kong, and the 'rest of Asia' had been recorded and over 750 cases of 2019-nCoV have recovered from the flu-like illness.
So far, reports from Jan. 29, from the CDC, show cases of the coronavirus in 19 countries. These countries include China, Hong Kong, Macau, Taiwan, Australia, Cambodia, Canada, France, Germany, Japan, Malaysia, Nepal, Sri Lanka, Singapore, Thailand, The Republic of Korea, United Arab Emirates, the United States and Vietnam.
The United States has five states with positive cases, California, Arizona, Washington, Illinois and Massachusetts, as of Feb. 4. The CDC considers the immediate health risk to the general American public from the Wuhan coronavirus low.
At this time, there is no specific antiviral treatment for 2019-nCoV infection but people infected can receive care to help relieve symptoms. For severe cases, treatment is focused on care for vital organ functions. People are reporting symptoms like fever, cough, shortness of breath and range from mildly sick to severely ill and dying.
The CDC reports symptoms can appear two to 14 days after exposure. Some coronaviruses are highly transmittable and person-to-person spread can happen on a continuum.
"Experts say a vaccine for the virus is still a long way off," according to the Washington Post on Jan. 29. "Schools in Beijing have closed indefinitely, and foreigners who have been evacuated from Wuhan…"
The CDC is growing the virus in cell culture to help understand the genetic characterizations and is necessary for further studies.
2014 WSC alumna, Jennifer Show majored in English, Writing and Literature and minored in Editing and Publishing. After graduating she obtained her Teaching English as a Foreign Language certificate and now teaches kindergarten and elementary students. She works at a learning center, a facility where students can go to get extra practice in oral, writing and reading skills.
Since Show does not work in a school, her workspace is not governed by the Education Bureau. Her boss has decided to keep the business open, as of right now. Show said if the disease continues to spread and her work gets shut down, she will try private tutoring. "A lot of parents are willing to pay whatever price to get a one-on-one experience for their child," Show said.
"At first the schools were closed until February 17, but now it has been pushed to March 1," Show said. "It's definitely for the best to help stop the spread of the virus. Schools were shut down for two weeks due to the protests back in November and now they're being closed again for another month."
"It took Carrie Lam a long time to close the border between China and Hong Kong and when she finally did, she left a few ports open, so people who had travelled to China for Chinese New Year could get back in," Show said. "Her only solution to the problem was asking the returning citizens to 'self-quarantine' themselves. That isn't going to work! The virus takes around two weeks before the infected start showing symptoms, so if they don't listen it's just going to spread further."
The CDC recommends everyone take everyday preventive actions to stop the spread of germs since it is currently respiratory disease season. Healthcare professionals should follow the CDC's recommended infection control procedures when caring for a 2019-nCoV patient.
Regina Korth, an RN for Student Health, said students that feel ill and have traveled internationally to infected countries should take necessary precautions, which can be found on the CDC website. The nurses in the student health center said a crisis team is being formed on campus and are looking to create protocols for future references.
"It's scary to see how fast this has spread to most of the world," Show said. She said she has taken every precaution available to help prevent the spread of the virus.