Costumes and Makeup class has fantasy final project
Students in the class have the chance to make their own character
Hang on for a minute...we're trying to find some more stories you might like.
The use of makeup is different for everyone. Theatre students have a class called Costumes and Makeup for the Stage. It is a biannual theatre course that teaches actors how to do their own basic makeup and costuming. This Thursday, in the Black Box Theatre, is a final project for the makeup portion of the class.
"The students have presented a fantasy or fantastical character that has, what we call 3-D," Brian Begley Technical Director/Designer professor of the theater program said. "Some kind of three-dimensional special effects in the character as well as base makeup components."
Begley said they have to present a character which they did in class on Tuesday. They had to research their characters, and will be executing the makeup design on their own faces on Thursday.
"We've been doing makeup all semester to this point," Begley said. "Almost every day they've been applying makeup in different ways. We did basic corrective makeup, did corrective makeup for different size of venues, and then special effects makeup and old age makeup."
He said that they need to have grown in the process so they are better when it comes to applying makeup to their own faces. He said everyone has gotten better at it, both students who came into the class knowing how to apply makeup and ones who did not know how before the class.
"They are doing their own designs," Begley said. "So they should be excited about them. That's the goal of this portion of the project."
Begley said that everything they have done in the class up to this point has been building up to the project. He wants everything they have learned to be in play.
"It's a class on practical application," Begley said. "The doing of it is more important than the study of it. We've studied techniques. We've watched various ways of doing it and working with the materials."
He said they have all learned how to use the brushes and different types of face paints.
"I definitely like effects makeup," Sophomore Michaela Timmerman said. "I kind of want to do something like this maybe later in life, just kind of help out around a school or what not."
Timmerman said she feels like she is pretty good at this kind of makeup and could help out in different areas. Her final project will be some sort of elf, as she put it.
"Definitely a really respected warrior leader," Timmerman said. "And have really pretty tribal makeup, naturalistic tones with pointed ears."
She said she is really excited for this project.
"I have been thinking about this for so long," said Timmerman. "I made up a whole land that she lives in, and my mother's name and my father's name, the villains that we are dealing with in this whole world."
Timmerman said that she does not know many theatre minors, but theatre has so many different aspects different people could help out with: makeup, costumes, lights, directing, etc.
"It's something I think a lot of people think about, but never really leap for," Timmerman said. "This is a nice, easy class you can learn how to take these steps to becoming better at makeup or better at costuming. I think people should go out and try to chase a little bit."
She said that she is excited to use latex and scar wax in her project.
"I'm hoping that it will turn out pretty good and show it off," Timmerman said. "I mean you do some work, you kind of want somebody to appreciate it."
Begley said that if people want to come, at 3 p.m. on Thursday to the Black Box Theatre, it would be fine, and they can come look at the designs.

About the Writer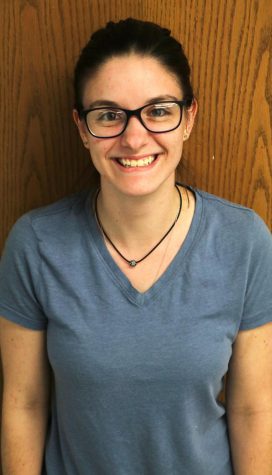 Kadra Sommersted-Simmons, Auxiliary editor
Kadra Sommersted-Simmons is from a small town called Emmet in Nebraska, but thinks it's easier for her to just say she is from O'Neill because people know...