Wayne couple opens business in Omaha along with another in Wayne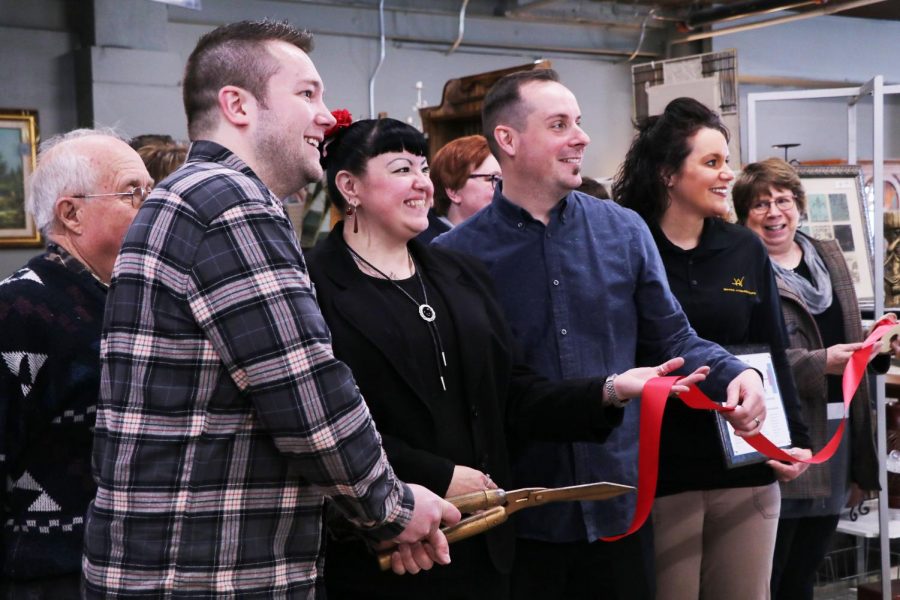 Rachel Vogt, Reporter
February 27, 2019
Mark Kanitz and Lukas Rix are far from being considered "unfamiliar faces" to many Northeast Nebraska residents. The couple is well known for running what could be considered one of the most successful businesses in downtown Wayne, America. The two currently own three stores in Wayne and have recently expanded, opening an Omaha location as well, Prairie In Bloom.
Kanitz spent a majority of his childhood in Wayne, from around 1990 to 1998.
"My father went into the ministry and was a pastor, so we moved around a bit to where he was needed," Kanitz said. "I then came back to Wayne in 2011, and that's kind of when our friends hooked Lukas and I up and we then met and fell madly in love, creating the relationship we have today, so we've been together for a little over seven years now."
Their business journey started in 2012 with Rustic Treasures and has grown into what it is today. After about a year and half of running the business, Kanitz and Rix decided to move the business to its current location to make it more convenient for customers to access all of their merchandise, and to purchase the adjoining Coffee Shoppe, which was recently closed.
"We are still kind of looking at how to utilize that space that was formerly occupied by the Coffee Shoppe," Kanitz said. "It just wasn't something that was going to work out for us going long term. We liked having it there in the downtown location, but it just wasn't in our wheelhouse now and continuing forward."
Another year after that, they were able to open Thrift Warehouse, which was recently sold to a former employee, Tanner Schopke.
"When we started that store, it was kind of an off shoot of Rustic, so all of our cheaper price points and stuff that we just took on as donation from consigners would go down to that location," Kanitz said. "Now that was a lot of $.50 and $1 items, so it wasn't a huge revenue generator. It was mainly just another way to make a few dollars off of things that would have just gone to the landfill anyways. This way the items could go to people who could maybe use it, but when we followed through with our idea of secondhand clothing consignments, and once we took on that task, it just absolutely blew us away with how much clothing there was in the world that people wanted to sell. It just got to the point where it was something we couldn't keep up with. It just became too much of a good for us, if that makes sense."
Their journey continued in 2017 when the two transformed the old City Hall into the 1912 Emporium. The business was a slight shift in direction from their previous stores, focusing more on high-end and retail décor instead of the thrift and secondhand nature of their other stores.
Junior Gabby Todd has worked for Kanitz and Rix for nearly a year.
"I started at the 1912 Emporium and helped out at the Thrift Warehouse a lot over the summer, but recently I have been mainly at the 1912 Emporium," said Todd. "Working for Mark and Lukas has been nothing but great. They provide a fun working environment but also have high expectations for each employee, which I think is vital to have to run a successful business. Within this past year of working for them, there has been a lot of change, laughter and hard work, and it has all been so worth it."
The two are continuing to expand and have since opened Prairie In Bloom, their location in downtown Omaha.
Todd has seen the businesses grow tremendously in the short amount of time that she has worked the business owners.
"From starting out with only Rustic Treasures and expanding to many other new business is astounding," Todd said. "Among the changes in the past year, they expanded not only in Wayne, but to Omaha as well. Mark and Lukas' hard work has paid off for them, but it doesn't stop with the openings of the new stores."
The couple wanted to see what they could do with the market down in that area.
"We had a ton traffic coming from Omaha already, so we thought why not kind of be in their backyard and bring the products closer to them," Kanitz said. "Another interesting thing we have found out in the Omaha location is how many people are finding out about Wayne and thinking 'Oh gosh, there's all these fun thrift stores, antiques and secondhand stores in Wayne,' and I think we're going to help drive even more traffic to Wayne."
Kanitz and Rix have worked for the past six months to get the old Mineshaft Mall to the condition they needed it to be in for their business to be successfully run out of the once "run-down" mall.
"Since it was kind of in our backyard and we would see it every time we would go in and out of work, and looking at that building every single day for the past five or six years, it made us want to give it value and purpose," Kanitz said. "Even when I was a kid in the '90s, there wasn't much going on in the building, you know there were a few small, valuable businesses in there, but we could see so much more potential with all that space."
Kanitz and Rix looked into purchasing the Mineshaft Mall a couple years ago, but the price just wasn't right for them at the time.
"Last year we got a developer on board with us and he made the purchase of the building and then did all the remodeling of it to make it what you see today," Kanitz said.
The couple wanted to preserve several historical details for the sentimental Wayne residents.
"We did make some pretty major changes," Kanitz said. "There were a ton of extra offices and walls, so it basically needed to be gutted in order for us to utilize the space properly. We also added in the big windows on the west side of the building to bring in more natural light and they're super energy efficient, and they also make the products look the best they can when they're inside, which is great for us because natural light cannot be beaten."
A couple of the preserved aspects were the ceiling as well as the original car dealership recesses. Many businesses have called the Mineshaft Mall "home," but now that Rustic at Mineshaft has opened, it consumes two-thirds of the entire building.
The Rustic at Mineshaft location had their ribbon cutting ceremony last Friday to officially announce the store's grand opening.
Kanitz noted that Wayne State College helps the businesses be as successful as they are.
"Every year with the new group of freshmen coming in and their parents and families, the college really generates a lot of the 'tourism' that we see," Kanitz said. "On game days and when there are events on campus we see a ton of people come through, and that really makes a difference. Through athletics and performing arts and all the extra people that come to town because of Wayne State, that has helped."
The couple currently also employs seven college students.
"We try to teach them common life skills," Kanitz said. "Whether that be how to properly sweep the floor or other things. Many college students come to us and this is their first job, so we try to teach them more things like how to talk to customers, how to count change back without being told what change to give the customer, and even teaching them how to budget properly. If we say, 'Hey, I'm cutting your hours,' we want them to act accordingly, whether that be cutting down on going to the bar or even cutting down on buying shots. We are definitely realistic people, and we try to go above and beyond for our employees because the most valuable things in business are your employees, so if you treat them right, they'll treat you right."
Owning and operating businesses also means overcoming adversity for what many conservative Nebraskans would call the "non-traditional" couple.
"Sometimes Lukas and I say now we feel like we're the 'token couple'," Kanitz said. "We definitely aren't out and about, we don't have a pride flag in the front of our stores, but we don't necessarily hide the fact that we are gay when people ask, but it definitely comes to mind when we are helping customers and they ask if we are brothers or business partners, we just kind of shake our heads and go with it because we don't want it to affect anything in terms of our sales."
The Wayne community has been supportive of the couple, and that was very evident when the Marriage Equality Act was passed. Their church asked to host a wedding for them and if they could invite their entire congregation.
"We just try not to let it interject in our business dealings as much as possible," Kanitz said.
Rustic at Mineshaft is currently open, and consigns many of the larger items that Rustic Treasures simply cannot take due to their size. Items include tables, mirrors, as well as other items that are simply too large for Rustic Treasures.