Food Pantry on campus
Hang on for a minute...we're trying to find some more stories you might like.
Wayne State College students who find themselves short on food can visit the food pantry.
The Food Pantry is open from 9 a.m. to 1 p.m. every Friday and can be found in the basement of Morey Hall.
Students that attend Wayne State College are eligible to visit the Food Pantry and receive free food during the time it is open.
"It doesn't matter if you live off campus or on campus or even if you have a meal plan or not," said Volunteer Coordinator Amanda Jaixen. "It's open to any student."
Some of the food that can be found at the Food Pantry include boxed foods, canned foods, fresh produce like vegetables or eggs, pancake mixes, ramen noodles and so much more.
They also offer items like shampoo, conditioner, body wash, Kleenexes or toothbrushes. Sometimes there are even pans or other dishes available.
In the winter, they are hoping to do a coat drive so students can have access to coats, hats, or mittens when it gets colder.
"We do know that food insecurity is really big, especially on college campuses," said the director of residence life Quinneka Lee. "So, this is a supplemental bay for us to work to making sure all students get the foods they need."
Food is an essential part of life and being a college student can make it hard to afford the foods needed on a day to day basis. That is exactly why the Food Pantry is so essential for students.
"It's hard to get food because you're in college and you're trying to pay for tuition and all your other bills," Jaixen said. "It's just nice knowing that WSC has that resource for them."
The Food Pantry usually gets about ten people every Friday. They hope more students will start to visit the Food Pantry on Fridays or become more interested in the Food Pantry.
Volunteers are always welcome to help with the Food Pantry by either working an hour or two, or just spreading the word about the Food Pantry being open and on campus.
"Hopefully if we get enough volunteers, we can open this up on Sundays and have this utilized more," Jaixen said.
The Food Pantry has been around for over three years at WSC. Residence Life is now the one in charge of it all.
"We have been so thankful for the Support Staff Senate and Professional Staff Senate. They do a drive as well as Student Athletic Advisory Counselor Club," Lee said. "They always do a drive in October and get a ton of great things."
If anyone is wishing to donate food or anything else to the Food Pantry, they can drop off donations at either Lee's office in Residence Life on the catwalk in the Student Center or they can drop it off Fridays from 9 a.m. to 1 p.m. at the Food Pantry.
If there's food laying around that most likely won't be eaten, please donate so another student can have a meal or a snack.
Everyone loves free food. Visit the Food Pantry.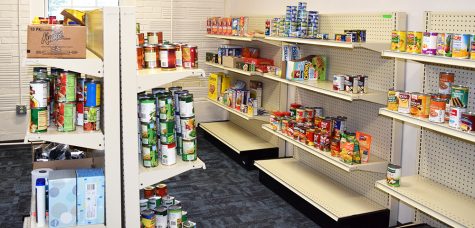 Photo by Michaela Timmerman