Construction, everywhere
Hang on for a minute...we're trying to find some more stories you might like.
Wayne State College has had a number of facilities under construction since the beginning of the school year including a new football press box, a Center for Applied Technology (CAT) building and a Criminal Justice Crime Scene Investigation Facility. WSC has raised the right amount of money for both of these to begin and start the renovation.
"Nov. 15 will be the substantial completion goal and we probably should be able to have classes in there for the spring of 2019," said Chad Altwine, director of Facility Services. "These both will be an essential part of campus and for students and athletes."
Altwine said there will be further advanced technology in the new CAT building and the press box will be more updated than the one that has been there for 40 years.
"The CAT building will be a real enhancement for the programs that are going in there, primarily construction management classes that are in Benthack now and the CTIS group that is in Gardner now," said Ruth Smith, construction project coordinator. "The Applied Technology building will be able to provide northeast Nebraska a facility to support management training and will provide new science gear."
The decision for a new building was made pretty easily since it was time for it to be updated. WSC was also able to secure $6.6 million through a state bond program underlining the importance of a new building.
"Our goal is to train teachers and professionals, not necessarily doing the welding, but to be the people that are supervising," Altwine said. "We're not necessarily training welders but people that can oversee that operation."
Construction has begun already for the new press box for the football stadium. The old press box was not able to withstand the high winds and was unable to stand another major wind storm. WSC was able to raise about $1 million and is expecting a nice, stable press box for coaches, officials and students that are involved in broadcasting, and Health, Human Performance and Sports. The cost for the building is about $1.7 million.
Another building coming to Wayne State is the Criminal Justice Crime Scene Investigation Facility.
"The crime house came about as an interest of becoming more innovative in the academic preparation of our students," said Jason Karsky, criminal justice professor.
The investigation facility is trying to demonstrate a real-life crime scene house to show people what investigators do and how to collect and process criminal evidence.
The CAT building is expected to be finished by Nov. 15, the press box is expected to be done around August, and the Criminal Justice Crime Scene Investigation Facility will be ready for use in fall.

About the Writer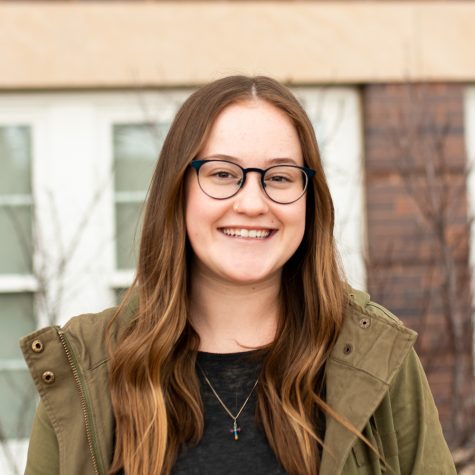 Libby Dunn, Arts & Entertainment and Online Editor
Libby Dunn is from Falls City, Nebraska and graduated from Falls City Sacred Heart High School in 2017. She is a sophomore and is pursuing a major in Journalism...