Alum presents graduate research
Hang on for a minute...we're trying to find some more stories you might like.
A Wayne State College alumna returned to campus last Friday afternoon to present on her South Dakota State University graduate studies research, "Managing for the Persistence of Glacial Relict Fishes."
Cassidy (Goc) Wessel graduated from WSC in 2009. She was a defensive player for the women's soccer team, as well as president of the Wildlife Society Club. She currently works as a private lands biologist with the Nebraska Game and Parks Commission in Norfolk.
"Working as a wildlife biologist is quite awesome, there's something different every single day," Wessel said. "The variety is super cool, the people you meet are super cool, and there's rarely answers to what you're working on, so it's a challenge every day."
Wessel's research involved several glacial relict stream fish, which have a unique population in the prairie streams of Nebraska and South Dakota. In the summers of 2013 and 2014, she, along with her colleagues, sampled streams from headwaters to collect data on the abundance of the target species.
"One of the most surprising things to me, having worked mostly on terrestrial things before this project, was finding out what's actually in our prairie streams," Wessel said. "People were shocked about what was in their pastures."
Throughout the two years of sampling, Wessel wound up with a total sample amount of 37,035 fish from 30 unique species at 129 different sites.
"We had a blast doing this project," Wessel said. "We still don't have all the answers, but we are going to have to jump in and start working on these things anyway because there's a lot of opportunity that we can see."
Wessel's presentation was open to faculty and students, as well as the public. Many science students came to Connell Hall to hear about Wessel's research.
"I study more biology of the human body, so it was really cool to see a different perspective from ecology because that's not something I tend to think about, so the presentation was refreshing," sophomore biology major Montana Hill said.

About the Writer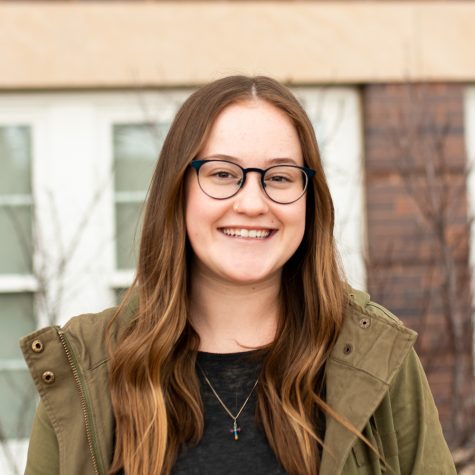 Libby Dunn, Arts & Entertainment and Online Editor
Libby Dunn is from Falls City, Nebraska and graduated from Falls City Sacred Heart High School in 2017. She is a sophomore and is pursuing a major in Journalism...