Wayne America becomes Hollywood
WSC Electronic Media students premiere films tonight in Ramsey
The Electronic Media program will show films by WSC students tonight at 7 p.m. in Ramsey Theatre.
Students in Video Production II and TV Workshop produced two films directed by students.
"I am the executive producer for a film called 'The End,'" senior Morgan Stough said. "It is a comedy short about a couple having a very public breakup. It's kind of goofy but pretty relatable."
This film was shot in the lower cafeteria in the Student Center and on a student's front porch.
"We had to work around the fluorescent lights and a buzzing noise our microphone had picked up in the lower cafeteria," Stough said.
Senior Justise Brundage produced the other short film, called "The Captain and Me."
"It's about a college student that has a drinking problem, and the person on his favorite alcohol appears to him and convinces him to get his life together and ask out a barista," Brundage said.
"The Captain and Me" was shot at Miss Molly's, on Main Street and in Terrace Hall.
Other students involved in the films were Zachery Halsey, Sami Taylor, Quade Swan, Regan Carriere, Emmalee Scheibe, Brendan Smyth, Natasha White, Tyler Nagy, Andrew Eaton and Adrian Eggers.
The students helped with camera, lighting, sound, pre-production, props, directing talents and other tasks that were needed on set.
Both of the films took a majority of the semester for the students to complete. "The End" took around six hours of filming to create an eight-minute short film.
"We were able to film mostly in one go," Stough said. "It was a five-hour day shoot for the main scene, and then we had one separate shoot for a scene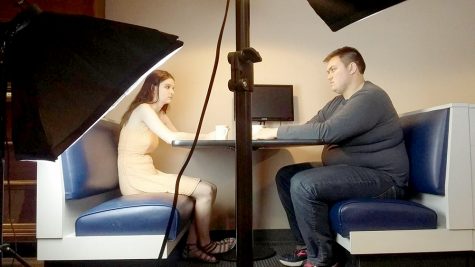 that takes place outside at night."
"The Captain and Me" took about five days to complete filming.
"I have a new appreciation for films, knowing how long it takes to shoot a 10 minute movie," Brundage said.
Both producers said there was a lot to be learned from shooting the films.
"I underestimated the amount of pre-production work there was before we could even think about shooting," Stough said. "I also learned how to lead a crew with efficiency."
The students also faced some challenges during their shoots.
"Scheduling was our biggest challenge," Brundage said. "We expected to have issues because we are all students and have lives and other things going on."
Students who are interested in making films or learning about the film process can talk to instructor Michael White at [email protected] about signing up for Video Production I or TV Workshop in the fall.