Scooter's Coffee gearing up to open in Wayne in December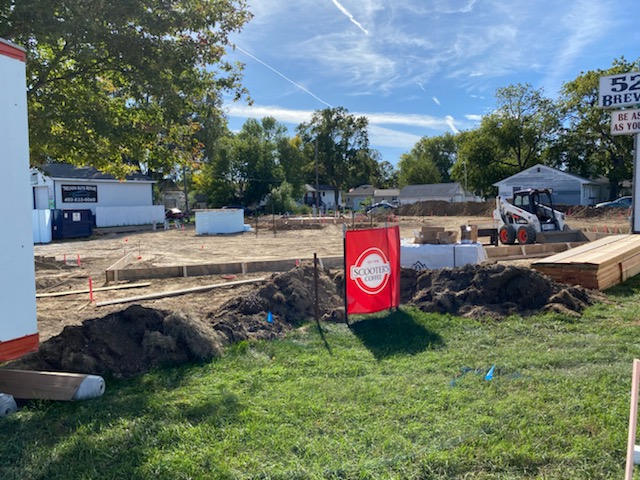 Coffee lovers in Wayne won't have to wait much longer for a drive-thru coffee shop in town as Scooter's Coffee will kickstart operations along main street later this year.
Scooter's is currently under construction along Highway 35 and Dearborn Street just across Ace Hardware and is tentatively scheduled to open in early December, according to Nate Lindley, a Scooter's franchise owner out of Omaha.
Wayne's Scooter's will replace the former 527 Brewhouse that was located in the same location. The 527 Brewhouse coffeeshop, which also had a drive-thru, closed in February. The closed shop offered brewed coffee, coffee drinks, espresso drinks and light food options.
"I know that people really have missed a drive-thru coffeeshop facility since 527 Brewhouse closed earlier this year," Luke Virgil, Wayne's economic development executive director, said. "There were a lot of people who were frustrated because they liked the convenience of having a drive-thru facility. And when you have that regional or national franchise tag, like Scooter's does, it always increases the credibility of the community."
Virgil said it was in June when Lindley began communicating with the City of Wayne about the potential to bring a Scooter's to the community. Lindley's conversations with the city heated up by the end of June, and at a July 6 Wayne Planning Commission meeting, a rezoning request to bring Scooter's to Wayne was unanimously approved.
The old 527 Brewhouse building had been placed on skids and was deemed a portable building because it had no foundation. A setback to the street was required because Scooter's will be considered a permanent structure upon completion.
"A wedding brought me to Wayne last summer for a few days," Lindley said." While visiting, I stopped at the local coffee shop and thought to myself that this would be a great spot for a Scooter's due to the location and proximity to Wayne State College as well as local businesses.
"Scooter's core values align with small towns and their people – integrity, humility, courage, and love. I feel that Scooter's offers a superior product and an experience for its customers, which I am excited to bring to Wayne."
When the addition of a local Scooter's gained approval, the hope was that the coffeeshop would be open by mid-November, but that date was contingent on construction and how much of a role weather would play in the construction process.
"Everything takes more time than you think it does; patience is key," Lindley said.
Lindley said he hoped to begin opening job applications promptly this fall in order to establish a workforce in time for the store's opening. He said he plans to hire 17-20 employees, both full-time and part-time, to run Wayne's newest business.
A search for a manager with a "great personality" is actively taking place, Lindley said, and that manager will be responsible for hiring, training and coaching a team to provide the best drinks and service at a rapid rate. The management position is currently posted on the job-hiring site, Indeed, according to Lindley, and barista job openings will be posted within the next couple weeks.
The coffeeshop won't only bring several new jobs to the community, Virgil said, but it also will increase the likelihood that travelers will take the time to stop on their commute through Wayne once they notice a well-known, established franchise is operating in the area.
"If you're not from Wayne and you're just traveling through, or if you're a college student who's not from Wayne, you see something like a Scooter's, you're going to be more familiar with it, and you might be more willing to stop by and grab a cup of coffee," Virgil said.
The menu at Scooter's will consist of a wide range of drinks, including: hot drinks, iced drinks, blenders, smoothies and teas. The coffeeshop will also have an assortment of foods, such as: muffins, donut bites, cookies, bread, bagels, breakfast sandwiches, breakfast burritos and more. A healthier variety of mochas and lattes also will be available for customers to choose from.
Specific store hours will ultimately depend on customer demand, but Lindley is tentatively planning to open the store from 6 a.m. until 7 p.m. Monday through Saturday, and it's yet to be determined what Sunday's store hours will be.
Scooter's Coffee is approaching 300 locations nationwide, with more than 100 of those located in Nebraska. The company's drive-thru kiosk average unit volume (AUV) is $761,277, and the year-over-year same store sales growth is 11.62 percent. The net profit margin of Scooter's stores is 26.3 percent, according to the company's website.
Scooter's Coffee resides in more than 30 U.S. states, and Nebraska and South Dakota are the only two in which Scooter's has sold out franchises.