Men's basketball goes winless on difficult road trip
Hang on for a minute...we're trying to find some more stories you might like.
The Wayne State men's basketball team saw its four-game winning streak snapped last weekend on the road after losses to St. Cloud State and Minnesota Duluth, respectively. The 0-2 weekend brought the Wildcats' record to 10-17 on the season and 7-11 in NSIC play.
WSC traveled to Halenbeck Hall on Feb. 7 for a matchup with a St. Cloud State team that was 12-10 going into Friday night.
The Wildcats started slowly, as the Huskies jumped out to a 9-2 lead 3:30 into the contest. The Wildcats quickly turned things around – going on an 8-3 run to cut the deficit to 12-10 on two Nate Mohr free throws with 12:51 left in the half.
The Huskies took control from there and gradually extended their lead as the first half progressed. SCSU led 29-21 with just under four minutes left in the half and proceeded to go on a 13-0 run over the next three minutes to take a commanding 42-21 lead. Wayne State went into the locker room trailing 44-23 at the half.
"At about the five-minute mark of the half, we weren't in too bad of shape and we just had a stretch there where we didn't get stops," head coach Jeff Kaminsky said. "Certainly, credit them; they made some plays and they're a very athletic team."
SCSU shot 62.5 percent in the first half while WSC shot 37.5 percent.
The Wildcats shot significantly better from the field in the second half (54.3 percent), but the halftime deficit was too much to overcome for WSC. Wayne State scored nearly double the amount of points in the second half as they did in the first half, but St. Cloud's hot shooting was simply too much to overcome.
"We played with a little bit more pace in the second half," Kaminsky said. "We pushed the ball a little bit more and guys got in a little bit of a rhythm. We had some good looks that we didn't make in the first half and we made a few more in the second half but we had just dug ourselves too big of a hole."
Jordan Janssen led WSC in scoring on the night with 16 points, while Al'Tavius Jackson added 13, Nick Ferrarini had 11 and Nate Mohr had 10.
Saturday night saw an unfortunately similar start for the Wildcats in Duluth, as the Bulldogs stormed to a 12-2 lead in the game's first four minutes.
WSC traded buckets with Duluth over the next two minutes as Janssen, Ben Dentlinger and Ferrarini each scored in the paint to bring the score to 16-8 in favor of Duluth with 14:22 left in the opening half.
Things went south there for WSC, as Duluth extended its lead to 17 (37-20) by the 9:26 mark before taking a 54-29 advantage into halftime.
"Duluth is one of the most skilled, if not, the most skilled team in the conference," Kaminsky said. "They shot the ball extremely well and you have to play with a little extra edge against them to try to get them out of rhythm and they were in an incredible rhythm in the first half making shots."
First half shooting was nearly identical to the previous night, as Duluth shot 63.4 percent opposed to Wayne State's 37.9 percent.
Wayne State cut its deficit to 19 (64-45) with 13:33 left in the game and 15 (68-53) at the 10:43 mark after a 3-pointer from Jackson, but 15 was as close as the Wildcats would come the rest of the game. Minnesota Duluth outscored WSC 23-17 over the game's final 10-plus minutes, handing the Wildcats a 91-70 defeat.
"I thought in the second half we played extremely hard and I think that helped us offensively with our pace," Kaminsky said. "We just ran into a little bit of a buzz saw there early in the game."
Wayne State again shot better in the second half, going 56 percent from the field over the final 20 minutes. The Wildcats shot 47 percent for the game.
Jackson was the lead WSC scorer on the night with 16 points while Henry Penner pitched in 12.
The Wildcats currently sit in sixth place in the NSIC South and will face familiar foes Concordia-St. Paul and Minnesota State-Mankato this weekend in the team's final home games of the season.
"We've got to do a better job this weekend of getting to the line more," Kaminsky said. "That allows us to not only get some easy points but it also allows us to set our defense up."
On Jan. 24, WSC snapped a 14-game losing streak to Mankato dating back to 2014 with a 73-71 win. The Wildcats defeated CSP 66-63 the following day.
Tipoff is set for 7:30 p.m. this Friday and 5:30 p.m. Saturday.
"We get to finish the year with four common opponents," Kaminsky said. "I think it takes on a little bit different aspect of preparation from the standpoint of having a chance analyze how you've played against a certain team. I think that will help our preparation this week and help guys focus and get zoned in."
About the Writer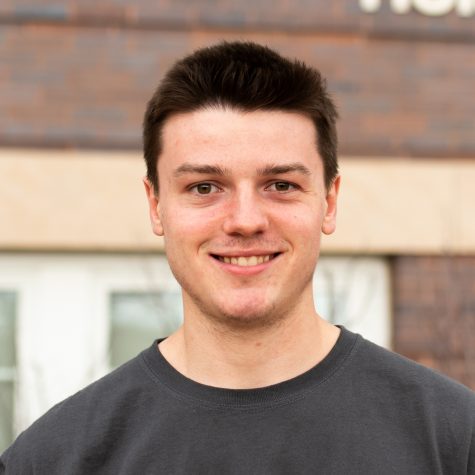 Austin Svehla, Online/social media editor, asst. sports editor
Austin Svehla is from Columbus, Nebraska and graduated from Scotus Central Catholic High School in 2016. He is currently a junior and is majoring in Electronic...