Men's basketball set for NSIC Tournament after first winning season in six years
Wayne State men's basketball head coach Jeff Kaminsky guided the Wildcats to a 19-9 (14-8) regular season, the first WSC men's basketball coach to compile as many wins in one season in nearly two decades. The Wildcats currently sit in ninth place in the DII Central Region rankings, which is one spot outside a berth in the NCAA Tournament. WSC still has an opportunity to make their case for the big dance with the loaded NSIC Tournament this week.
"I thought [the success this season] was something a lot of people really didn't expect from us," senior Kendall Jacks said. "We kind of surprised a lot of people. It was a lot of fun to be in that situation and kind of be the one that no one saw coming."
The Wildcats got a feel for how much talent they have from the first week in November when WSC defeated Northwest Missouri State (#1 team in DII) in an unofficial scrimmage before beating Pittsburg State 95-92 on Nov. 9 and falling to a talented Central Missouri team 73-67 on Nov. 10. The Wildcats swept through the four remaining games on their non-conference schedule and won their first five interconference matchups of the season to give WSC a 10-1 start to the year.
"At that time, Pitt State and Central Missouri were two teams expected to compete at the national level and I think we left that tournament competing very well," head coach Jeff Kaminsky said. "We realized that not only could we compete at a high level but win at a high level. I think that carried over into our early conference season starting with our win at Augustana."
As the season continued, the demand for the highest quality of play got higher with the gauntlet of a schedule a team must face every time out in the NSIC. After the 10-1 start, the Wildcats went 9-8 the remainder of the regular season. The signature victory of the season came on Jan. 19 when the Wildcats traveled to DII attendance-leading Northern State and left Aberdeen with an 84-81 victory.
The Wildcats sat in the top three of the NSIC South for the entire season and had a chance to clinch the top seed in the south with a victory over Sioux Falls this past Sunday. The Cougars overcame a six-point halftime deficit and eked out a 79-77 win at Rice Auditorium. The loss kept WSC at a tie for first in the south with Mankato and Augustana.
"We realized we had three seniors back who were going to be pretty good players," Kaminsky said. "We also had an influx of new guys on our roster. We felt like we had a chance to be good and as a whole we have to be pleased with the progress we've made as a program."
The Wildcats were granted the three seed because in head-to-head matchups amongst the three schools, Mankato combined for a 3-1 record, Augustana a 2-2 record, and WSC a 1-3 record. As the south's third seed, the 'Cats drew U-Mary, the north's sixth seed. In a Feb. 1 matchup, WSC dominated the Marauders 67-48 in Bismarck, North Dakota with stifling defense throughout.
"Every game takes on a new life and we were outstanding defensively in that game," Kaminsky said. "We have a lot of respect for them. They're coming off one of their best, if not their best weekend of the year where they almost beat Northern and then had a 25-point lead on a Moorhead team that was still competing for the national tournament. We like the fact that we were able to earn a home game."
If the Wildcats prevail tonight against Mary, they will advance to the quarterfinal round at the Pentagon in Sioux Falls. The quarterfinal game would take place against the winner of St. Cloud State and Upper Iowa at 8 p.m. Sunday night. The semifinal and championship games will be played next Tuesday and Wednesday evening.
"We know we have a chance to win a conference championship with this tournament, so we're really going to take it one game at a time and focus on who we've got to play," Jacks said. "We'll see what happens at the end of the day."
About the Contributors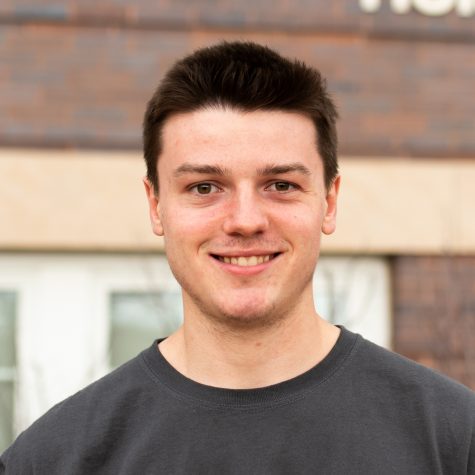 Austin Svehla, Online/social media editor, asst. sports editor
Austin Svehla is from Columbus, Nebraska and graduated from Scotus Central Catholic High School in 2016. He is currently a junior and is majoring in Electronic...