Women go winless in North Dakota road trip
Hang on for a minute...we're trying to find some more stories you might like.
Close contests in both Friday and Saturday's games did not provide fruitful outcomes for the Wayne State women's basketball team. The Wildcats lost to U-Mary on Friday in Bismarck and Minot State on Saturday in Minot. The defeats brought the Wildcats' record to 13-9 (8-8 NSIC) on the season, putting WSC in fifth place in the NSIC South.
In a contest in which WSC never had the lead, the Wildcats dug themselves in an early hole, allowing the Marauders to score the first seven points of the game. The 'Cats got on the board after three-plus minutes of play on a three-pointer from sophomore Halley Busse and a jumper from sophomore Erin Norling to bring WSC within two early on. From there, U-Mary found a rhythm offensively, bolting to a 24-13 advantage at the end of the first quarter courtesy of Cassidy Askvig and Coral Gillette, who combined for 18 points in the first period.
"It felt like we didn't come out really mentally focused," head coach Brent Pollari said. "We got down early and that made it a tough game for us."
WSC trailed by as many as 14 (35-21) in the second quarter, but a mini run to end the half kept the Wildcats in the contest. A pair of Busse free throws and a jumper and a one for two trip to the line from freshman Kylie Hammer cut the Wildcats' deficit to 35-26 with less than a minute remaining in the half. That score held for the final minute of the period, sending WSC into the locker room with a nine-point deficit.
U-Mary managed to extend the lead back to double-digits early in the third quarter courtesy of a 9-4 run through the first four-plus minutes of the period. WSC again faced a 14-point deficit at the 5:42 mark of the third quarter, but the Wildcats again refused to let that deficit grow any larger. Four free throws from senior Andrea Larson, a Busse layup and free throw, and a three-pointer from senior Maggie Lowe fueled a 10-0 Wildcat run to bring WSC within 44-40 with 3:06 left in the third quarter. After the Marauders extended their lead to eight, WSC put together an 8-2 run to end the quarter and cut the score to 50-48.
U-Mary scored the first four points of the fourth quarter, but a jumper from sophomore Haley Vesey followed by three straight points from sophomore Brittany Bongartz brought the Wildcats within a point with 5:21 remaining. One point was as close as the Wildcats drew within, as U-Mary notched a 10-3 run to gain a 64-56 lead. WSC got within as close as 64-60 in the last minute of the game, but time ran out before the 'Cats could draw any closer, ending in a 65-60 final.
"We were coming off a short week, playing on Saturday and Sunday," Pollari said. "We had to give them Monday off, practice here Tuesday and Wednesday and then we had to get on the bus on Thursday."
WSC shot 20 of 66 (30.3%) from the field and 17-27 (63%) from the free throw line. Norling led the Wildcats in scoring with 14 points followed by Bongartz, who had 11. The loss dropped the 'Cats to 13-8.
Saturday's game started with a back-and-forth theme, as WSC got a jumper and a free throw from Norling, three-pointers from Busse and Lowe, and a layup from Larson in the first quarter to give the Wildcats an 11-10 advantage after a quarter of play.
The Wildcats led 13-12 with 8:26 left in the second quarter when an 8-1 scoring run gave WSC a 21-13 lead. After Norling converted a layup, Busse answered an MSU free throw with a three-point play to give the 'Cats an 18-13 advantage with just over six minutes left in the half. Two minutes later, Busse converted on another three-point play with 4:03 remaining in the half to give WSC a 21-13 lead. The Wildcats outscored the Beavers 10-8 the remainder of the second quarter to take a 31-21 lead into halftime.
A potent attack from Minot State through the first three minutes of the third quarter enabled a 12-2 Beaver run to tie the game at 33-33. A jumper from Vesey at the 6:23 mark put the Wildcats back in front and another jumper, this one from senior Taylor Reiner, gave WSC a 37-33 lead. MSU again managed to tie the game in the third quarter, knotting the game at 42 apiece at the 2:06 point. A three ball from Hammer and a layup from Bongartz helped the 'Cats to a 48-46 lead into the fourth quarter.
"Minot made some plays," Pollari said. "They had people hitting shots that you don't typically hit."
MSU took the lead on their first possession of the fourth quarter on a three-pointer from Kari Clements, but Lowe answered with a three of her own to give WSC a 51-49 lead with 9:06 remaining in the game. Over the next 4:05 of game time, both teams traded buckets, with WSC holding a 60-57 lead at the 5:00 mark of the fourth. A Vesey free throw extended the WSC lead to 61-57 with under four minutes to play. The Beavers drew within a point on a three-pointer, but Larson was fouled on a three-point shot and ensued to make all three attempts from the charity stripe to give the Wildcats a 64-60 lead with 1:35 remaining. After the Larson free throws, MSU put together an improbable 9-0 run on a three-pointer and layup from Mariah Payne, a pair of free throws from Cali Delsman, and a pair from Payne. The 69-64 lead stood as the final buzzer sounded and dropped the Wildcats to 13-9 on the season.
"We made plays most of the game and then at the end there, we didn't make plays when they counted," Pollari said. "We needed to rebound better.
WSC saw improved shooting on Saturday (23 of 54, 42.6%), including 8-25 (32%) from three-point range. Norling led the Wildcats with 18 points and Larson had 11 for WSC.
"You've just got to move on to the next game," Pollari said. "We always talk about what's your next best action and that's moving on and getting ready and looking forward to what's ahead of us and what we're doing now."
The Wildcats are back at Rice Auditorium this weekend as WSC hosts St. Cloud State on Friday at 5:30 and Minnesota Duluth on Saturday at 3:30.
"We've just got to get tough defensively and rebounding," Pollari said. "Offensively, I think things will come to us with our actions that we run. They (SCSU, Duluth) are big, they're long, and we've got to not let them get second chances."
WSC currently sits one game behind Winona State in the NSIC South standings with six regular season games left to play before the start of the conference tournament.
"We don't talk about it a lot," Pollari said. "We have goals and things that we want to do, but everything boils down to doing the little things. I'm sure everybody's aware where we are and what could've happened this weekend and if we won those two, we would have been right at the top. It's a difficult league, but we knew that getting into it."

About the Contributors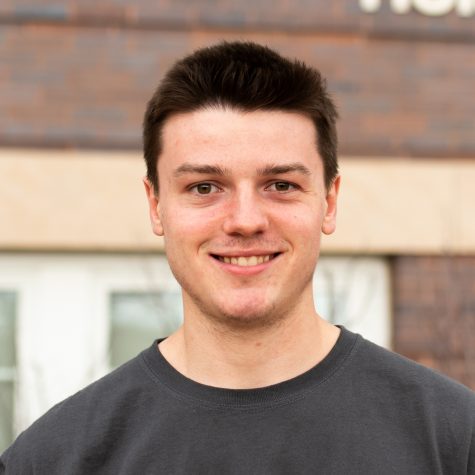 Austin Svehla, Assistant Sports Editor
Austin Svehla is from Columbus, Nebraska and graduated from Scotus Central Catholic High School in 2016. He is currently a junior and is majoring in Electronic...