Wildcats lose in bizzare ending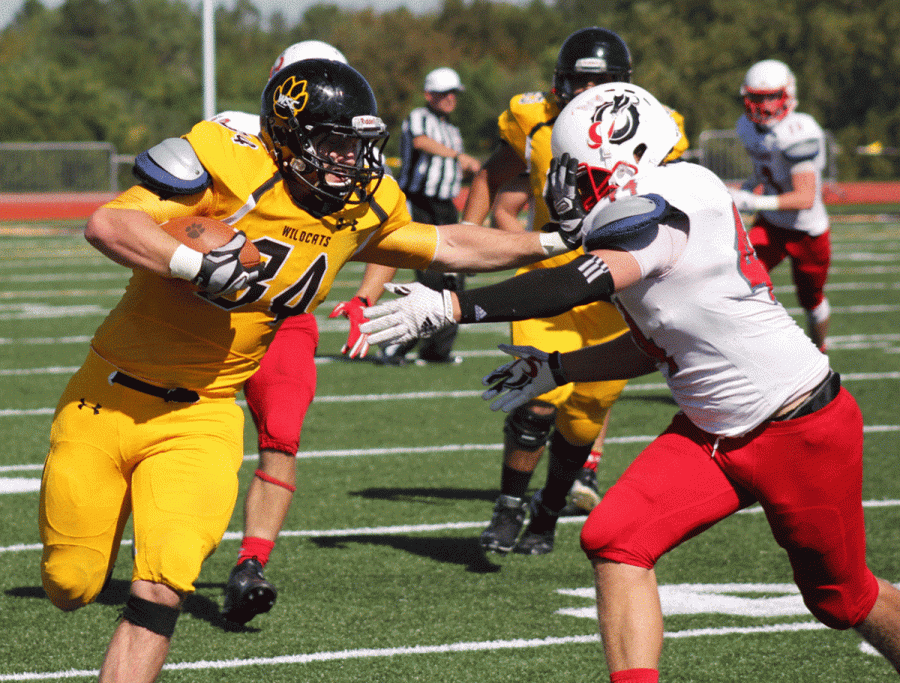 Brenden Buskirk, Staff Writer
September 24, 2014
Fourth and goal on the nine yard line.
With nine seconds left, MSU Moorhead batted down a Zach Osborn pass to beat the Wildcats in a bizarre 40-36 NSIC football game. The visiting Dragons improve to 1-2 overall and 1-2 in the NSIC while WSC is also 1-2 on the season and 1-2 in league play.
The game featured a combined 1,254 yard between the two teams with a combined six blocked or missed kicks that resulted in a pair of extremely rare, two point PAT returns.
Wayne State started the scoring on the first drive of the game as Osborn threw a three-yard pass to Cole McDaniel to cap off a 14 play, 88-yard drive to propel the Wildcats to an early 7-0 lead.
The second quarter got away from Wayne State as MSU Moorhead scored on four of their next five possessions while holding WSC scoreless on four possessions with three punts and a fumble. This gave the Dragons an early 24-9 lead.
WSC pulled within 24-16 with 9:48 to go in the second quarter on a 28-yard scoring strike from Osborn to senior receiver Adam Stark. But the Dragons responded yet again with another score just before halftime to take a 30-16 lead at the intermission. MSU Moorhead finished the first half with 412 yards of total offense compared to 285 by the Wildcats.
WSC took the second half kickoff and marched 61 yards before the drive resulted in a blocked field goal attempt of 28 yards. Despite Wayne State having the ball for 10:29 and dominating the time of possession, neither team scored in the third quarter.
WSC scored midway through the fourth quarter on a 27-yard pass from Osborn to McDaniel to make the score 30-23 with 6:21 remaining.
On the ensuing kickoff, Zayne Medhaug took back a 98 yard kick return for a touchdown to put the Dragons back in front by two scores at 38-23 with 6:04 to play.
Wayne State was now in what they call "NASCAR," which is a no-huddle hurry-up offense. They marched down the field and capped the drive off with a 13-yard pass play from Osborn to McDaniel with 4:50 to play, cutting the Dragon lead to 38-30.
After a big defensive stand and forcing a MSU Moorhead punt, the Wildcats had a huge 65-yard touchdown pass from Osborn to Stark with 3:06 to play to pull within two at 38-36.
WSC went for two to tie the score up, but the Osborn pass attempt was intercepted by Sheldon Jones and returned for another rare two point conversion to give the Dragons a 40-36 lead.
WSC forced MSU Moorhead to punt again and got the ball at their own 35-yard line with 41 seconds to play and no timeouts remaining.
Osborn completed a nine-yard pass to Stark followed by completions of 16, 9 and 22 yards to McDaniel to give WSC a first and goal on the nine yard line.
The Dragons stopped three straight pass attempts by Osborn, including a fourth and goal pass to Brian Kent at the goal line on the final play of the game.
MSU Moorhead held on for the wild win in dramatic fashion, giving the Dragons their first win of the season.
WSC gained 694 yards in the game, the fourth-most yards gained by a Wildcat football team in a single game.
The Wildcats had 251 yards rushing and 443 passing while MSU Moorhead finished with 560 yards.
Junior Ryan Ludlow led WSC in rushing with 152 yards on 25 carries followed by Chad Koch and Lane Yates with 35 yards apiece.
Osborn completed 31 of 52 passes for a career-high 443 yards and five touchdowns with two interceptions.
The 443 yard passing by Osborn were the fifth-most in a single game by a Wildcat quarterback.
McDaniel and Stark put on a show on Saturday with some impressive stats.
McDaniel hauled in 14 receptions for 205 yards and three TD's, all career-highs.
He became the sixth player in school history to have 200 yards or more receiving in a single game.
Stark snagged 10 receptions for 156 yards and two scores.
Defensively, senior linebacker Nick Monzu led the defense with eight tackles followed by Jeff Van Den Top and Nate Kroupa with seven stops each.
Wayne State will be on the road this Saturday, going up near the Canadian border, visiting Minot State in a Northern Sun Conference game starting at 2:30 p.m. in Minot, N.D.
About the Contributor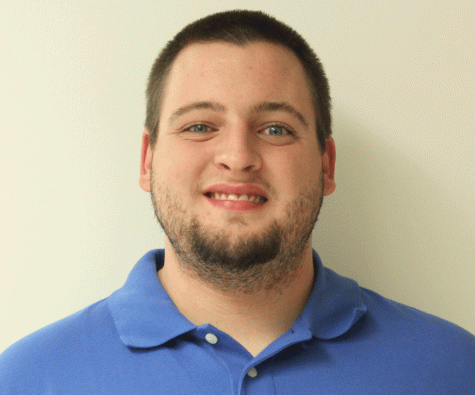 Richard Rhoden, Spring 2015 Editor in Chief/Sports Editor; Fall 2014 Sports Editor
Richard Rhoden is the Sports Editor at The Wayne Stater. He is a senior whose major is Journalism.

"Anything you need to know comes from Mr. Roger's...