'Student-centered active learning'
Dr. Michael Marek discusses how he stays in touch with friends overseas
The internet is a fascinating place where over three billion people communicate in scores of different languages.

Dr. Michael Marek, WSC professor of mass communications, expounded on this internet communication in his colloquium presentation, "The Integration of Technology, Learning and Research" Jan. 27.

Marek's presentation focused on using the internet and social media for intercultural communications, specifically with Chinese students learning English as a foreign language.

He spent a semester in Asia a couple of years ago, and his presentation was delivered from the perspective of an English teacher abroad.

"The internet and social media IS mass communications," Marek said. He emphasized that technology is the venue for teaching English as a foreign language, and using it is not the educational outcome or goal.

Marek called this technological approach a "student-centered active learning," saying that the active role students play in using the technology is more efficient in terms of retention than traditional lectures.

"[Technology] improves learning, but is not the goal of learning," Marek said.

One specific technological example Marek discussed was the use of video-chatting (specifically Skype), noting that smiling and similar visual feedback helps the student on the other end of the connection more than the standard written feedback.

He discussed the relation of video-chatting with the Hawthorne effect, which holds that individuals will modify or improve their actions when they know they are being observed.

Marek also stressed the importance of saved data which can be collected and observed to make educational improvements.

"We need data, not guesses."

But with the increased collection of data in intercultural communications, Marek also cautioned against becoming over-reliant on data, saying that "pristine stats don't guarantee that the results are replicable."

Perhaps the most important facet of technology use in international communication is to continue to use it and build on prior experiences.

"A teacher might use a Facebook group to link a student in Japan with a student in Taiwan and say that they will collaborate on an essay, but then she never checks on the group again for six weeks," Marek said. "That doesn't work when we abandon them to technology. We need a series of learning tasks that will move them along and help them."

The increased use of technology does not come without drawbacks, though. Marek mentioned that some faculty may be more interested in journal publication and other accolades rather than improving curriculum.

FERPA (Family Educational Rights and Privacy Act) can affect the use of social media for learning, according to Marek. FERPA prevents class rosters from being made public. Because the members of a social media group could be seen by the public, Marek questioned whether FERPA made this illegal or not.

Marek is proud of what he and his colleagues have done in the advancement of technology in the English classroom for foreign language students. He hopes that with more consistent qualitative research, the improvements can keep coming.
About the Writer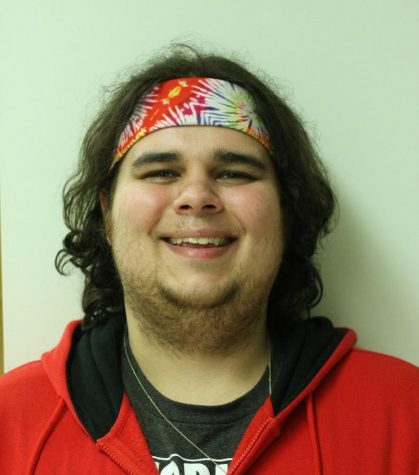 Mason Schweizer, Opinion Editor
Mason Schweizer is a senior majoring in journalism.

He is currently serving as the opinion editor.

He loves his Chicago sports teams and the Mod...