Jon Webb raises dogs and makes salsa when he is not a custodian at WSC
Hang on for a minute...we're trying to find some more stories you might like.
Although custodian Jon Webb is new to Wayne State College, starting work in March 2015, he is not new to Wayne, having been a resident his whole life.

Custodians are some of the hardest workers on campus, spending their work days either setting up rooms for conferences, cleaning classrooms early in the mornings or shoveling snow during the winter.

Despite the hard work, Webb likes to keep a positive attitude towards the job.

"Gotta keep it real, gotta keep it clean, gotta keep it real clean," Webb said.

Webb listed the social part of the job as one of the greatest parts of working at Wayne.

"I love meeting new people," Webb said. "I probably freak some people out when I just start talking to them for no reason, but hey, don't be so anti-social."

Outside of work, Webb helps raise and save the "greatest of dog breeds," the American Pitbull.

Besides his love of puppies, Webb also has a passion for photography and cooking. He has taken part in creating Wicked Webb Photography and also Wicked Webb Salsa. Webb grows the ingredients for the salsa in his garden and sells the final product here in Wayne.

Along with being a big collector of Oakland Raider merchandise, Webb also collects tattoos and has quite a few of his own.

"I can out party anyone, but I'm a 'responsible adult' and I don't do that," Webb said.

With Webb's busy life, he lives by this moto to keep him humble:
"Ignorance is more dangerous than any dog. Never judge something you know nothing about."

About the Writer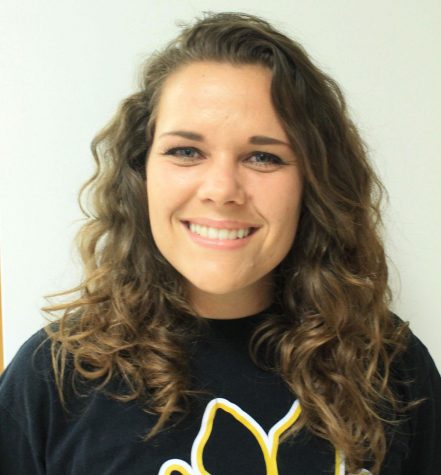 Melanie Alyea, Sports Editor
Melanie Alyea is a junior majoring in journalism.

She currently serves as the sports editor for the Wayne Stater.

Alyea has been to 30 different...