Concordia snaps Wildcats 10-game winning streak
Top-ranked Golden Bears outplay WSC in a 3-1 loss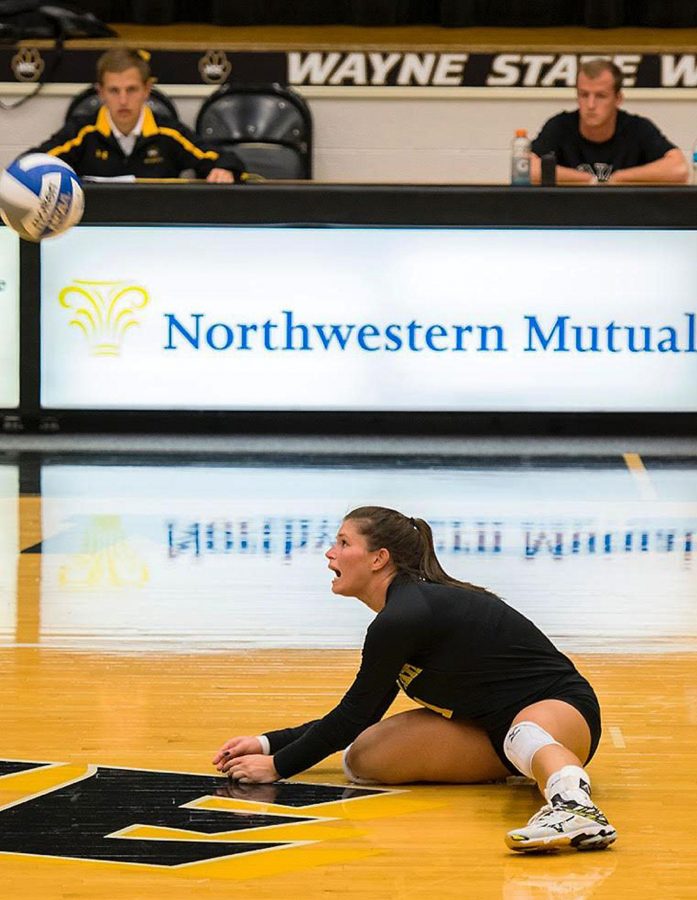 Joseph Lovercheck, Staff Writer
November 11, 2015
Katie Hughes, the double-double volleyball machine, racked up two more during the Wildcats' 1-1 weekend.

The fourth-ranked Wildcat Volleyball team fell to the top-ranked Concordia-St. Paul Golden Bears 3-1 on Friday night, breaking WSC's 10-game winning streak.

The Wildcats led early in the close first set, eventually using a couple of big kills from Alyssa Frauendorfer and Hughes to close out the set 25-20.

"We played really well in spurts," coach Scott Kneifl said. "We came out and played really well in the first set, and then our level of play really dropped off. We didn't ball control well. We didn't pass in system. You can't do that against a really good team, and that's what happened."

During the second set, the Wildcats kept it close before eventually losing the set 25-22. The 'Cats had seven attack errors in the third set, which caused them to lose 25-14.
In the last set, the Wildcats fought back from a 23-17 deficit to make it 24-22, but lost 25-22.
"Whether we win or lose, [we] will try to find ways to get better for the next game," Kneifl said. "There are definitely things we can work on in practice. When you lose, it gets you re-focused a little bit, and hopefully it will put us on another win streak."

Hughes recorded her 14th double-double while leading the team with 15 kills and having 25 digs. Courtney VanGroningen led the team with 26 digs, while Leisa McClintock had 43 assists.

"It's just another game," Kneifl said. "We just need to go out and worry about our side of the net and not worry so much about what they are doing. If we just worry about our side of the net, good things will happen."

The Wildcats seized the opportunity to pounce back on Saturday afternoon against Minnesota State, Mankato. The Wildcats won that match 3-0: 25-14, 25-22 and 25-21.

Hughes again led the team in kills with 15 and had 13 digs for her 15th double-double of the season. Michaela Mestl and VanGroningen had 15 digs each to lead the team. McClintock had 36 assists.
Last night, the Wildcat volleyball team hosted the annual Blackout against 12-ranked University of Nebraska-Kearney Lopers. The Wildcats fell 3-0.

The Wildcats lost the very close first set, 25-21, and the second even closer second, at 25-22. Wayne fell short in the third set 25-19.

WSC's record moves to 23-5 for the season with this loss.

The 'Cats will finish out the regular season this weekend when the team heads to Upper Iowa on Friday night and head to Winona State to take on the 25th-ranked Warriors.