Riff Raff gets dark in 'Trench Coat Towers'
The new project by Jody Highroller, Riff Raff's alias, will have to tide fans over until his next album 'Peach Panther' is released.
Few entertainers in the music industry today are as odd and eccentric as the rapper Riff Raff. Riff Raff, who also goes by the alias Jody Highroller, among dozens of other nicknames, released a brief, four-song project on Halloween titled "Trench Coat Towers."
The project serves as what Riff Raff calls the "versace crab-dip appetizer" to his upcoming studio album, "Peach Panther," which Jody called his "lemonberry lemon entree."
Interestingly enough, "Trench Coat Towers" was released under the acronym Jody Highroller, while "Peach Panther" is scheduled to be released under the moniker Riff Raff.
The first song of the mixtape, "Brick off The Balcony," is the angriest I have ever heard the butterscotch boss sound.
He speaks on all of the artists he has tried to help make a name for, but they failed to put in the necessary work to benefit from the assistance of Jody, with a hook that repeats, "I passed you the ball and you broke my assist, I pass you the ball and you broke."
In the intro, we see that the white Wesley Snipes is up to his old pastime of drinking prescription cough syrup, starting his verse by saying, "I get my ice from Alaska, I pour some syrup in Shasta."
This lets the listener know that while Riff is angry with the industry, at the end of the day he still has his promethazine to fall back on, which proves to be a recurring theme through the EP.
The syrup theme continues in the second track, titled "Florida State." In the hook, Jody Montana raps that he could have been a student-athlete had it not been for his addiction to cough syrup.
Unlike "Brick off The Balcony," where Riff is angry, "Florida State" shows us the imaginative side of Riff Raff, using a plethora of electric descriptions. For example, he starts off his verse with these genius lyrics:
"Ultraviolet rays, I'm flossing candy gray, Cool-whip coupes, sky blue berry braids, my bluetooth is made by Versace, I could kamikaze in the gingerbread Bugatti."
For those who struggle to keep up with the descriptive Mr. Highroller, allow me to help you catch up. The white Gucci Mane is saying he is driving his flashy, uniquely painted cars while sporting blue braids, and is so wealthy that even his bluetooth speaker is made by an affluent designer.
It was nice to see the rap-game Oprah Winfrey back to his old, wordy self, rather than the drug-induced Jody we saw in the intro.
Unfortunately, the happy version of Riff Raff is short-lived, as the neon icon gets back to the dark side with "Smile."
The depressed peach panther states that he only bought a Rolex watch so he could see himself smile.
In the past, Riff Raff always rapped about drugs in positive terms, as they seem to enhance the wild world he lives in. However, in "Smile," rap's James Franco reflects on the negatives of drug use, and what they cost him. He chose drugs and jewelry over education.
"Used to hide a fifth of codeine in my locker, hated high school, then I hated college, coulda graduated Harvard with a degree in Martial Arts, could have went to Yale, but I chose to bump and fail, man I chose to sniff grams, froze out both my hands."
The last song on "Trench Coat Towers" is another song where Mr. Buttersworth candidly discovers his drug abuse, aptly titled "Poppin Pills."
This is a return to the Riff Raff of old, as he brags about taking drugs in his usual, proud manner, even stating that he would rather continue to pour syrup in his slice than listen to you and your advice.
The one thing missing from the LP until this song was what fans, such as myself, have come to love of the neon python. Roughly once a song, Jody will give himself a nickname, usually in the form of either "the white ______" or "the rap-game ______." Though it took until the last song, "Poppin Pills" offers this vintage Jody feature when he raps that he has aquaberry jewels and is the rap-game Bob Cousy.
Though the project was short, it was good to hear from the freestyle scientist again. It has been over a year since his debut album, "Neon Icon" had been released, and that was the last project the hologram panda gave us until "Trench Coat Towers."
The tape was darker than any project Deion Sandals has released before. While I appreciate the different perspective, it was not my favorite project from the rap-game Bob Barker, but it is definitely enough to hold fans over until "Peach Panther" is released.
For those who are itching for more words of wisdom from Blueberry Jones, he will be releasing a poetry book titled "NEON ViBES." The book will be available for pre-order beginning Friday on jodyhighroller.com.
And for anybody who had never heard of Riff Raff until now, just search his name on YouTube and check out his various songs and freestyles.
I promise you will not be disappointed.
Album Score: 7/10
About the Writer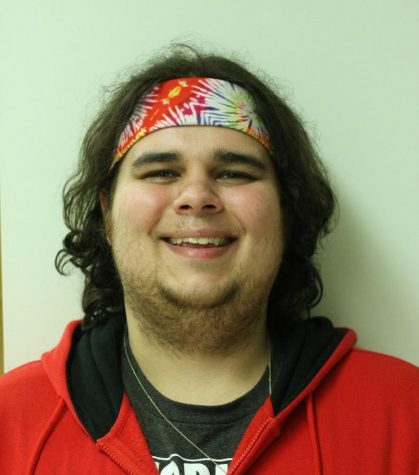 Mason Schweizer, Opinion Editor
Mason Schweizer is a senior majoring in journalism.

He is currently serving as the opinion editor.

He loves his Chicago sports teams and the Mod...