Run-heavy attack on Golden Bears pays off
WSC's 20-17 win boosts McLaughlin to all-time record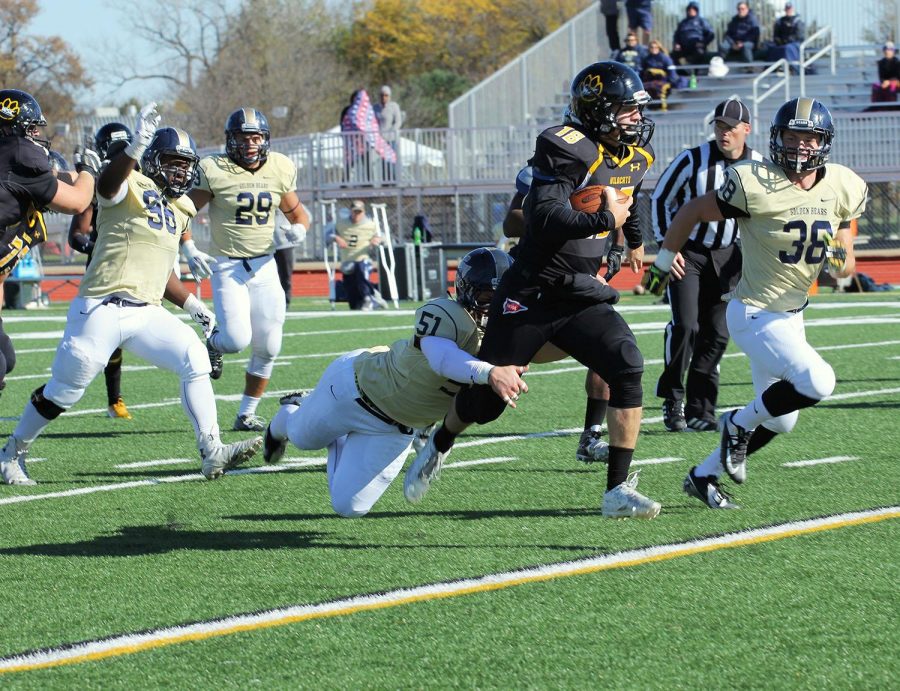 Wayne State football coach Dan McLaughlin became the all-time winningest coach in school history Saturday, as his Wildcats bounced back from consecutive losses to defeat Concordia-St. Paul 20-17 at Bob Cunningham Field.
"Whether it be this win, or any other, we really needed a win this week, and I'm glad we got it, regardless of a record," McLaughlin said.

The win brings the Wildcats' record back to 4-4, and 1-3 in the NSIC South.

Layne Sullivan, who in recent weeks has made a case for himself at quarterback, led a run-heavy attack for the 'Cats for a second straight week. He ran for 139 yards and two scores, while running back Ryan Ludlow led the team with 155 yards and a touchdown of his own.

Sullivan didn't throw much, going just 3-11 for 20 yards, and Taylor Reedy saw some action as well, completing one of four passing attempts. But for the Wildcats, when you can get a lead and run for 300 yards as they did Saturday, passing becomes secondary.

"We had to figure out a way to run the ball, and the kids have responded well. We went from being a throwing team to a running team, and they have done a great job adjusting," McLaughlin said. "We're a completely different offense now; Lane and Ryan and the line all played great."

The lone scoring in the first half for WSC came on a five-yard run from Sullivan midway through the first quarter, but an improved 'Cats defense kept things close, and the team trailed 10-7 at halftime.

Ludlow gave the Wildcats a 13-7 lead early in the third quarter, running in an 11-yard touchdown. This came after great field position for the WSC offense after Nick deBuhr blocked a Concordia punt that left the 'Cats with only 37 yards to paydirt.

After a Nathan Weatherby interception gave the Wayne offense excellent field position again early in the fourth quarter, Sullivan added his second score of the game, this time from 16 yards out, and gave WSC a 20-7 lead.

A garbage time touchdown put Concordia-St. Paul back within a possession late in the game, but the offense was able to continue to vigorously run the ball, and run out the clock.

Improvements on defense and special teams were focal points of practice the past few weeks, as both units had been struggling as of late.
"We've had some issues to clean up there's no doubt," McLaughlin said. "The coaches and the kids have done a better job, but it is still a work in progress, and we want to continue to get better."
The 'Cats outgained the Golden Bears 335-310, with 304 of WSC's yards coming on the ground.

WSC will look to win consecutive games for the second time this season when they travel to Winona State in Minn. for a 1 p.m. contest Saturday. It won't be a small task for WSC, as Winona State is coming off an upset of top-ranked Minnesota State last weekend, and coach McLaughlin knows they will be fired up coming back to their home field after the big road upset.
Score Summary
1st 10:35 CSP Schenderlein,J. 24 yd field goal 5 plays, 79 yards, TOP 2:19 3 – 0
06:42 WSC Sullivan, Layne 5 yd run (Simon, Sam kick) 7 plays, 74 yards, TOP 3:44 3 – 7
01:21 CSP Vickers, A. 4 yd pass from Tillett, T. (Schenderlein,J. kick) 9 plays, 73 yards, TOP 5:18 10 – 7
3rd 11:04 WSC Ludlow, Ryan 11 yd run (Simon, Sam kick blockd) 4 plays, 37 yards, TOP 1:24 10 – 13
4th 08:36 WSC Sullivan, Layne 16 yd run (Lindsay, Tyler kick) 6 plays, 26 yards, TOP 2:34 10 – 20
02:37 CSP Vickers, A. 28 yd pass from Schramski, B. (Schenderlein,J. kick) 5 plays, 52 yards, TOP 1:03 17 – 20
About the Contributor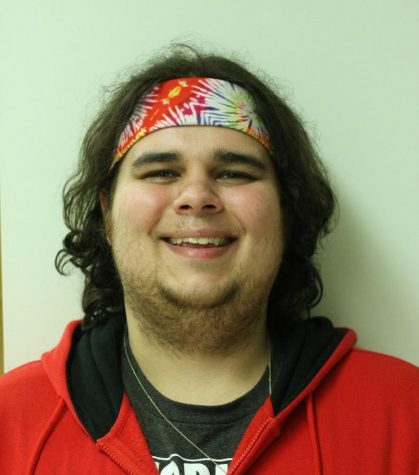 Mason Schweizer, Opinion Editor
Mason Schweizer is a senior majoring in journalism.

He is currently serving as the opinion editor.

He loves his Chicago sports teams and the Mod...