Machine Gun Kelly grows as an artist
     On Oct. 16, Machine Gun Kelly released his second album, "General Admission," the follow-up to his 2012 debut "Lace Up." MGK said he went on the three-year and one-week hiatus to take the time to progress as an artist.
I had the chance to speak with the Young Gunner after his Oct. 9 performance at the Bourbon Theatre in Lincoln to discuss the album, which he called a "grown-up version of 'Lace Up.'"
After listening to the work several times, I have to respectfully disagree. MGK's debut lacked cohesiveness and a sense of purpose for the most part; it was just a collection of recordings (albeit mostly good recordings) thrown together and packaged as an album. Where "Lace Up" missed, "General Admission," which Kells says is a ticket to his life experiences, hits.
The album starts off with "Spotlight," featuring Lzzy Hale of the rock band Halestorm. We see glimpses here of what to expect throughout the album: talk of issues with his father, the pressures of fame, religion (specifically battles with the devil) and prescription drug abuse. It is MGK spilling his feelings of the past few years as he has climbed the hip-hop ladder, and a great way to kick off the album.
Lead singles "Till I Die," the Cleveland anthem, and "Bad MFer," featuring a vintage performance from legendary rocker Kid Rock, are two standouts on the A-side of the record. "Bad MFer" blends country, rock and hip-hop together into a strong beat that Kells effortlessly flows over.
The two songs sandwich what is possibly my favorite song on the album, "Eddie Cane." It discusses the hood of Cleveland that MGK rolls through, though he has way too much money to be riding through such a dangerous place. In probably my favorite lyric of the album, Kells raps, "police in my rearview, so no I'm goin' 25. If they catch my homie with the shotgun ridin' with the shotgun, they gonna give him 25."
The gritty side of MGK continues with "World Series," another song in which he shows off his fast-paced skills. "Oz." ends the string of fire, reminiscing about times he and his crew had while coming up in hip-hop.
We see MGK at his most vulnerable with "Gone," which discusses the pain and frustration of being away from his young daughter while touring, and the lack of relationship with his father, who abandoned Kells while he was in high school.
"I had to get really drunk to capture the raw emotion and raspy voice that captured my emotions," MGK said of this song, which features a beautifully sung hook from Leroy Sanchez.
The vulnerability continues with "Story of the Stairs," where the young gunner opens up about his mother, who left him and his father for another man when he was nine years old. He opens up about the emotions he felt walking from his room, down the stairs and to the front door, where his mom stood waiting for him a decade after leaving.
The deluxe version of the album features three extra songs.
One of those extra songs, "Make It Happen," MGK loved discussing with me, as his friend and fellow rapper Dub-O helped him write it.
"One night, we were rocking in the studio, and Dub was writing, and everyone was talking about how dope it would sound coming out of my mouth. Dub is like my brother, and when he said the things he said, it was things I could relate to. I put my own twists and turns on it, but he did a great job, and it was such a well-written piece of work."
Perhaps the most important aspect of the album in general is the music behind the voice. Rather than just creating beats on a keyboard, live music was recorded, which not only added an extra level of authenticity to the album, but makes rap's best live performer's concert that much better. For an artist who spends 200+ days touring every year, this is perhaps the most important aspect.
The drum and guitar rock-like elements work well in showing the punk-rock roots that live in MGK's music. As a whole, "General Admission" shows more growth from one artist's album to the next than perhaps I have ever seen. It shows Machine Gun Kelly is more than just a niche rapper for the troubled youth of America. It shows that MGK is a bona fide rock star in a rapper's body, and one of the best artists to come up in the past handful of years.
And for those who were big fans of his first album: do not confuse progress with changing things up. At his core, MGK is still the rapper with the voice of the people. His audience is becoming more vast. The young gunner said it best: "the fans love who Machine Gun Kelly is, who Machine Gun Kelly was, and who Machine Gun Kelly will be."
Overall Score: 9/10
About the Writer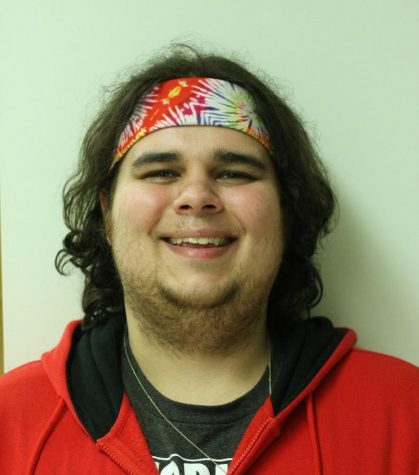 Mason Schweizer, Opinion Editor
Mason Schweizer is a senior majoring in journalism.

He is currently serving as the opinion editor.

He loves his Chicago sports teams and the Mod...