WSC's football future
Brenden Buskirk, Staff Writer
February 19, 2014
After a surprising and disappointing season, the Wildcat football team is striving to make improvements this offseason for the upcoming year.
Because offensive inconsistencies seemed to be the Achilles heel last season, WSC landed seven offensive linemen among the 26 recruits who signed with the Wildcats on National Signing Day on Feb. 5.
Four wide receivers, two quarterbacks, one fullback, one running back, one tight end and one punter also joined the offensive mix. On the defensive side of the ball, the new recruits include three cornerbacks, two safeties, two defensive ends and two linebackers.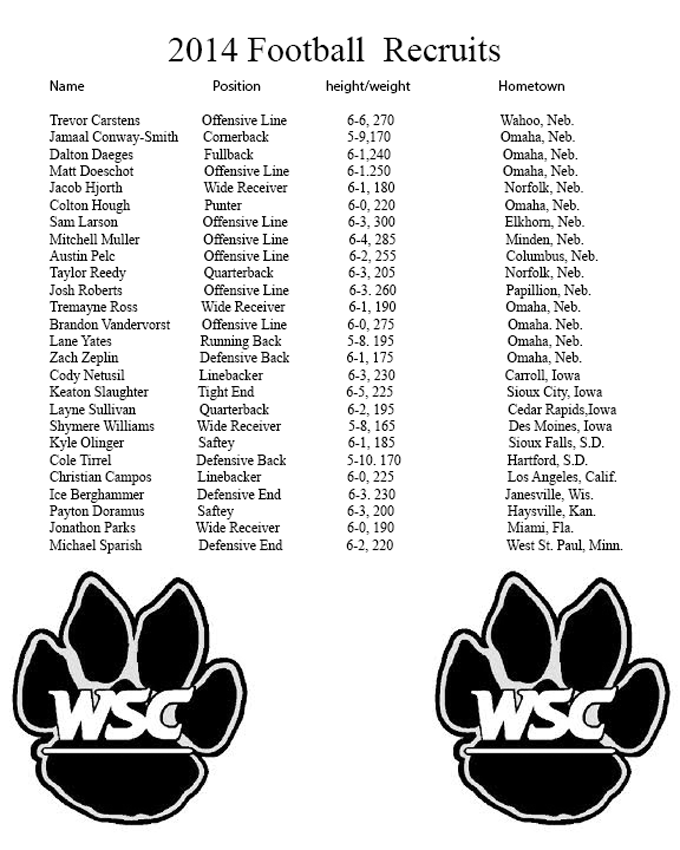 Wayne State finished the 2013 season with a 2-9 overall mark, ending a school-record string of six consecutive winning seasons.
Learning from last season and prepping for the upcoming season, the Wildcats have been working hard in the weight room. The team has been raving about how incredible the new strength and conditioning program is and how much it will help the team improve. These improvements are credited to the football team's newly acquired strength coach, Tim Fertig.
WSC graduated 12 seniors from last year's team, so new leadership is needed from the new upperclassmen. Spring ball is already almost underway, and the team is optimistic and excited as ever.
"We think we have a chance to be really good," junior linebacker Zach Biermann said. "We faced some tough times and a lot of adversity last season, but last year is history. We as a team are focused on getting better every day this spring and summer, and that should leave us right where we want to be at the start of the season."
The Wildcat coaching staff knew this new recruiting class was vital in order to reach a common goal of consistently being a top team in the talented NSIC conference.
The 2014 recruiting class includes 23 high school recruits and three transfers. Fifteen of the 23 high school recruits are from Nebraska, four from Iowa, two in South Dakota and one from California and Wisconsin.
Of all the positions stressed on the recruiting board, offensive line was the most essential to the coaches. This was especially due to the fact that there wasn't one lineman to commit in the recruiting class a year before.
"We would like some of our recruits to be able to step in and fill some spots next year, but this next season is on the seniors' shoulders and our ability to lead by example," junior tight end Joe Trouba said. "The spring season is very important for success in the fall. We're working our hardest every day and already seeing drastic improvements."