What a show: Noah Gundersen impresses in the Waiting Room
I bought the cheapest tickets for one of the best concerts that I've been to, about two weeks ago. They were $15 and this was the first concert that I'd been to by myself. Like any other intro­verted person, I was anxious at the thought of it. But when I got there my anxiety dissipated.
The Waiting Room Lounge in Omaha is a great concert venue to experience. It's dark and they have good drinks and it's not jam packed with people. On the walls, there are signed posters from past perform­ers like Nada Surf lining the walls. It's just a great atmosphere.
While I was waiting for the show to start, I was imbibing in a beverage when this entourage of people came in that didn't look like the majority of hipsters that were surrounding me. I kind of choked, because it was him. Noah Gundersen. The guy I came to see.
Maybe it's just awkward ol' me being myself, but I stared and stared hard. This guy was nothing like I pictured and I don't even know what I pictured him to look like—maybe a hipster with beanie covering blonde hair that was kind of Kate Moss-era heroin-chic thin with thick-rimmed glasses with scruff for days and pretentious as hell.
But Noah Gundersen has hair like the models that are in shampoo com­mercials (I might be a little envious). I'm talking long, dark locks of hair that covered broad shoulders and tattooed arms. He didn't look like the guy that writes songs about his grandfather or needing a woman.
After the opening band, Ivan & Alyosha, finished their spectacular set of songs which I recommend lis­tening to their song "Be Your Man." I waded my way closer to the stage to prepare myself for the experi­ence of hearing Gundersen. Behind me these two guys just giggled like little giddy children whenever he spoke and that only added to the experience.
With a solemn voice and orange lights casting shadows on his face, Noah Gundersen plunked the open­ing notes out on the keyboard to the song, "Slow Dancer," off of his new album, "Carry The Ghost," that was released in August to start off his set.
Gundersen and his touring band, which includes his brother, Johna­than, on drums and his sister, Abby, on violin also background vocals, were all just remarkable.
I loved every minute of it. The passion and rawness that just oozed from him while he played was felt by everyone in the room. It was like when someone tells you their confi­dences that haven't been shared with anyone else; it's euphoric and makes heat emanate from your face in sheer happiness that someone trusts you.
Then he played one of my favorite songs, which is called "Blossom," and it made everything better. Ev­eryone around, including myself and the giggly guys, belted it out like we were alone in our cars sing­ing as loud and as terribly as we wanted and no one cared. It was just a great time.
It was a small, intimate show where people could stand at arm's length away from you or the per­former with a drink in hand or sit at a table with friends and watch from there. No one was rude and everyone was polite, so much so that both Ivan & Alyosha and Gundersen complimented us on our politeness.
I would recommend anyone that hasn't been to a show of either band or the Waiting Room to do so.
About the Writer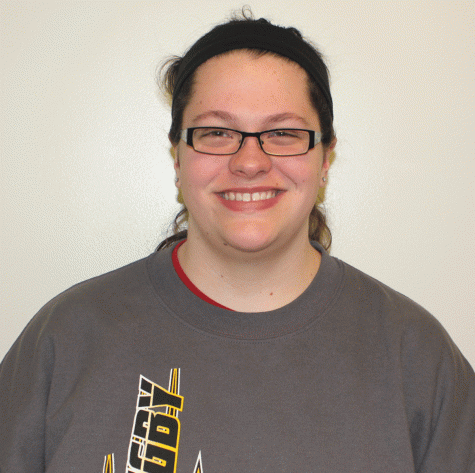 Laura Anderson, Copy Editor
Laura Anderson is a Wayne Stater Copy Editor. She is a Sophmore Mass Communications and Journalism Major.

"I once fought a vellciprator with nothing...