Throwers delight
Carly Fehringer, Sara Wells lead WSC women's hurlers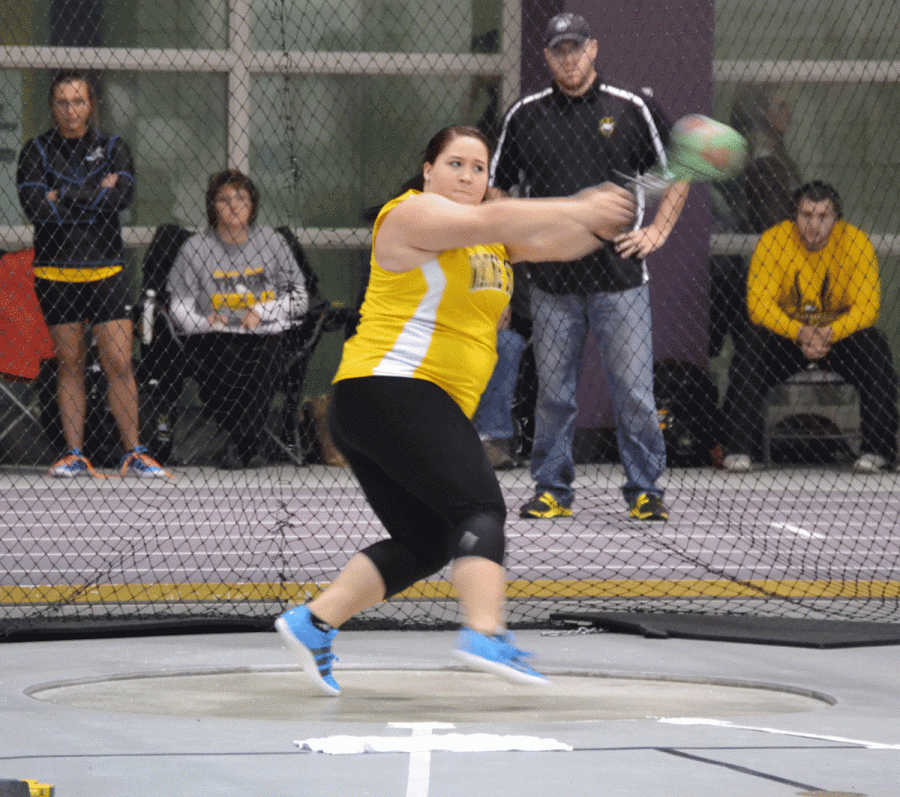 Two of Wayne State throwers recorded first-place finishes in the weight throw and shot put to highlight WSC's performance at the Minnesota State Open Indoor Track and Field meet this past weekend in Mankato.
Sara Wells earned another first-place finish in the shot put with a winning mark of 48'4".
"During practice, I focus a lot on the footwork and technique," Wells said. "A lot of repetition gets me prepared for a meet to know how a good throw feels so I can produce it in a meet."
Carly Fehringer also recorded a first place finish in the weight throw with a season-best of 63' 8", a throw that now ranks fourth in NCAA Division II in the event. She also finished third in the shot put with a top mark of 45' ¼".</p>
Fehringer was named NSIC Women's Field Indoor Athlete of the Week, the second straight Wildcat thrower to win the honor.
"I just try to think about improving my mark with each throw," Fehringer said. "I try to stay focused on what I need to do in order to get a better mark."
Freshman Jessi Pongratz reached an NCAA provisional mark with a fourth-place finish in the shot put at 44' 10" while Michaela Dendinger took eighth in the shot put at 41' 3".
Other Wildcats that placed in the weight throw were Emily Wells taking sixth (55' 3"), Kyndra Sturm seventh (54' 5"), Jessi Pongratz ninth (51' 5") and Michaela Dendinger tenth (51').
Non-thrower top finishers for the Wildcats included Alexis Guhl, who finished fifth in the 60 meter hurdles (9.30), and Megan Svitak, who recorded a tenth-place finish in the pentathlon with 3,009 points.
"We have to keep working hard to make progress to get better each week," coach Marlon Brink said. "We also have to keep everyone healthy, so those two factors will determine if we can have a good finish to our indoor season."
Wayne State will send some athletes to the Husker Invite in Lincoln on Friday and Saturday, while a majority of the team will compete Saturday at the Doane College/Fred Biele Track and Field Classic in Crete.