WSC ranked seventh in best value, according to one study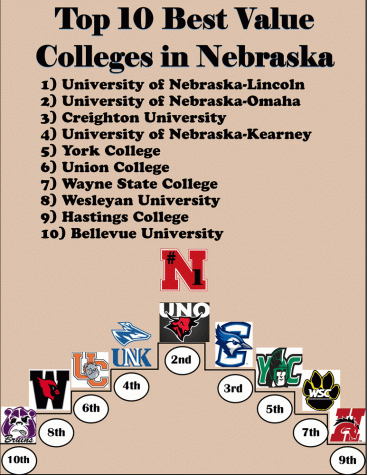 If you looked at colleges located in Nebraska, and then looked at tuition, you might notice that Wayne State College has one of the lowest tuition rates.
However, a recent study by a financial data and technology company, SmartAsset, ranked Wayne State seventh for colleges providing the best value in Nebraska.
This surprised many people because Wayne has such a low tuition. But rankings were determined based on many other factors, including: average scholarships and grants, starting salary upon graduation, tuition, living costs and retention rate.
Graphic by Alissa Woockman
"College rankings can be confusing and frequently differ depending upon who is doing the ranking and what criterion are included," Vice president, Dean of Students Jeff Carstens said.
In 2014, WSC was the only public college or university in Nebraska to receive recognition in the U.S. News and World Report annual college guide, the Washington Monthly College Guide and Rankings, and Colleges of Distinction.
This is the third consecutive year the college has achieved these honors, and Washington Monthly ranked Wayne third out of all the institutions in the U.S. According to that same guide, Wayne is ranked 19th among all colleges and universities in the nation for "Best Bang for your Buck."
"Each of the many college rankings and guides available use their own sets of comparison criteria and frequently result in different rankings.  Thus, WSC was ranked first and second in Nebraska in the guides above, but may have also been ranked tenth in the state by another guide using different criterion," Carstens said.
Rankings and guidelines vary, so it shouldn't be a surprise, according to SmartAsset, that Wayne State was ranked seventh.