Dan Gable comes to Sioux City to promote autobiography
Hang on for a minute...we're trying to find some more stories you might like.
Dan Gable, arguably the greatest wrestler in history and an Olympic gold medalist, believes the sport is as important as ever.
Gable signed autographs last Thursday at Barnes & Noble Book Store in Sioux City to promote a new autobiography.
"Wrestling is so much bigger now than when I competed. We have lost some division I programs, but worldwide wrestling is so much bigger," he said.
A native of Waterloo, Iowa, Gable grew up loving competition. His parents enrolled him in a lot of sports, at the local YMCA. Gable was a stand out in many sports but really loved swimming.
In middle school, Gable got his first taste of losing. A loss at a swim meet put such a bad taste in his mouth, he knew he never wanted to feel that way again. This transitioned to wrestling.
During his West Waterloo High School career, Gable put up a perfect record of 64-0, winning three state titles. Due to rules, he was not allowed to wrestle on the varsity team as a freshman.
During his sophomore year of high school, Gable lost his beloved sister Diane. She was murdered by a classmate of Gable's. In a documentary, he recalls this event giving him a passion to use wrestling as a way to cope as well as give his family something to lean on during the hard time.
Gable went on to wrestle at Iowa State University, where he went 181-1. Because of NCAA rules, he again couldn't wrestle on the varsity team as a freshman. Gable was a two-time national champion as well as being runner-up his senior year, losing his final match of his college career.
After making plenty of headlines, Gable was selected to the 1972 Olympic team.
He didn't give up a single point on his way to winning the gold medal in Munich, Germany.
No matter where Gable went, he won. After his Olympic days, he went to the University of Iowa to become head coach of the wrestling team. He coached Iowa for 20 years and won 15 NCAA national titles.
Retired from wrestling, Gable has a hard time staying completely away from the sport. He remains an activist and promoter, passing some of the time by writing. In his latest book, "A Wrestling Life," Gable opens up about his life on and off the mat.
At the book signing, Gable was asked by a fan if he brought his gold medal for people to see.
"No, but I could probably go to the Olympics and win another," Gable replied.
Being the natural-born leader he is, Gable knows it is his job to help the future of wrestling.
"The future of wrestling depends on the leadership. Right now, I am one of many of the leaders for the sport," Gable said. "I love being a leader. It is my passion, but I can't always be in this position.
"I am always looking for younger guys to step up and be the next generation of leaders. The future looks really bright."
Gable always has advice for the younger generations, whether for wrestling or life.
"You have to know what is important. Family, academics, wrestling, and other sports were always important to me. You need to know what you like and surround yourself with people who like the same things and will help you succeed in those things," Gable said.

About the Contributor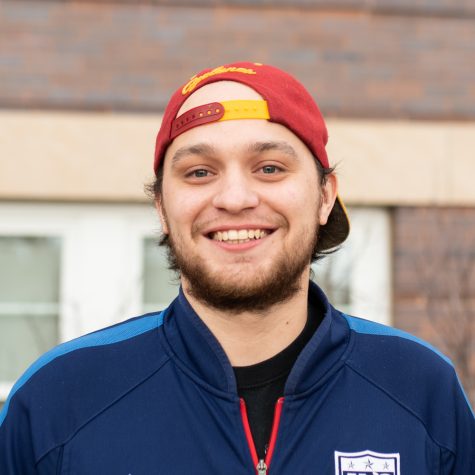 Justin Yost, Opinion Editor
Justin Yost is from Logan, IA and graduated from Logan-Magnolia High School in 2013. Justin is a senior and is majoring in Journalism. Aside from writing...