Senate squabbles over meeting attire
Several issues tabled for another meeting after midterm break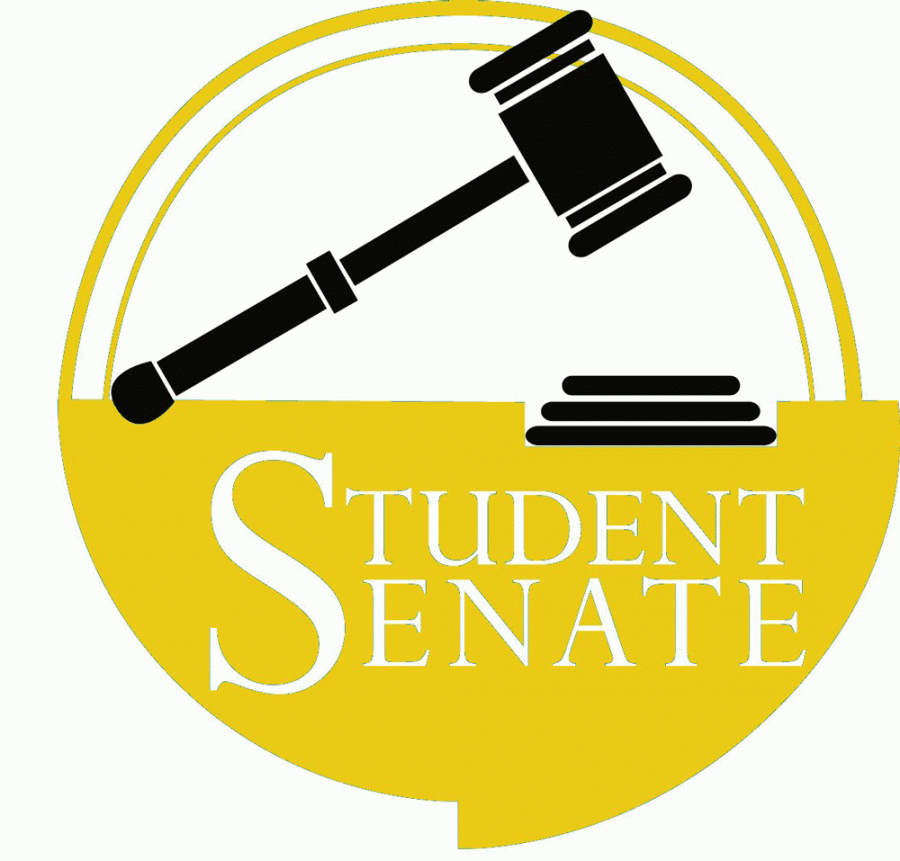 Tyler Fransen, Staff Writer
March 4, 2015
With a full agenda, including the elections, what was otherwise a productive Student Senate meeting turned into a discussion of polo shirts.
Senate met this past Sunday, the last meeting before the upcoming Presidential and Vice-Presidential elections. The voting that has not already taken place on Tuesday will take place today (Wednesday).
There is only one pair of candidates for President and Vice-President running; Senator Quinn Rochford and Spencer Morris. Student Senate, however, will allow write-in candidates.
President and Vice-President aren't the only things on the ballot this year, there's also the myriad of constitutional changes to be approved, as well as a possible poll over a second sand volleyball court.
On Sunday, Vice-President Makayla Ptaschek ran the meeting as President Nathan Boggess was out of town at a conference.
The proceedings were business as usual, with a relatively lengthy discussion over some new campus aesthetics such as benches, a possible shelter or a type of gazebo.
The main problem with the new benches is cost, as there are conflicting estimates over the original price. It was estimated that each bench would cost $100, but it was not made clear how many benches were made by the Wayne State organization that is constructing them.
Yet, the latest pricing was a total of $404 for what was assumed to be eight benches, but as previously stated, no one was exactly sure how many benches were made. Not even Senator Rachel Von Fange, who represents the bench-building organization, knew.
As a temporary fix, Senate decided to put down $1000 to see how many benches that would get them, and how many spots they have on campus to put them.
Then, in what could have bee a quick discussion, 20 minutes of metting time passed while senators focused on polo shirts.
Under the by-laws of Student Senate, when it comes to allocation funds, clubs and organizations are not allowed to use allocated funds to purchase any kind of apparel, such as t-shirts, jackets, sweatshirts, etc.
Yet, for quite some time, Student Senate has been using its funds to purchase polo shirts for its members to wear during the meetings. Many senators were critical of this notion; claiming that it's hypocritical of Senate to demand clubs not use funds for apparel, yet Senate does just that. The suggestion proposed by Senator Quinn Rochford was to instead charge incoming members with a fee of $10-15 so that it is the individual purchasing the shirts, and not coming out of Senate's pocket.
But there were some members quick to point out that given the difficulty of filling Senate seats this year, adding something like a cover charge for shirts might turn people away.
The discussion went off on a tangent about senators' attire during the meetings, and Vice-President Ptaschek's disdain for jeans at Senate meetings. Ironically enough, Vice-President and advisor to Senate Jeff Carstens was wearing his jeans.
It proved to be a fruitless venture, as Carstens suggested that with only a handful of meetings remaining, this issue of appropriate Senate attire be the issue of the next Student Senate. And thus it was tabled for a later time.
Senate's next meeting will be held Sunday, March 15. The votes of elections will be counted, and hopefully revealed, tomorrow (Thursday).