Short-handed wrestlers place fourth
Wayne State wrestlers had a rough weekend with sickness.
The team left three teammates home, and two wrestlers were not at 100 percent at the Winona Dual.
Two Wildcats came down with bronchitis.
Nevertheless, Devin Rupp was the champion of the 149 lb. division.
Rupp had two pins, one against a ranked opponent in the conference. The head to head will help with seeding for the conference meet.
Casey Glassgow recorded a third-place finish in the 141 lb. division.
"It was rough having kids stay home for being sick. We can't do anything about it, but we wrestled very competitively. We brought home some hardware," Coach Greg Vander Weil said. "I always tell the kids there is a difference between getting beat and losing. If you wrestled your hardest, you got beat. If you just go out and don't wrestle that hard, you lost that match."
Rochester, which won the community college national championship last year, finished first in the dual.
They made the move up into the same conference as Wayne State.
"We wrestled hard. We have a lot of things that need fixed. It is just technique stuff. You can't always be perfect. You just have to go out and compete. You either get better or you get worse, you never stay the same. Wrestling is one of the sports you get out what you put in," Coach Aaron Schuett said.
The conference tournament will be held Saturday, Feb. 28, in Rice Auditorium at 10 a.m. Air Force, Rochester, and Wayne State will be the top three teams according to Vander Weil.
"We are really hoping to have that home field advantage at conference. It is being held here in Wayne and we would love to have a lot of fans out here watching. We have a chance to send the most wrestlers to the National Dual in Texas than we ever have before," Vander Weil said.
The team still needs donations to help pay for the way to Allen, Texas. Donations are still being taken for the "100 $50 friends" to help send these wrestlers to, according to the coach, the biggest meet of their lives.
About the Writer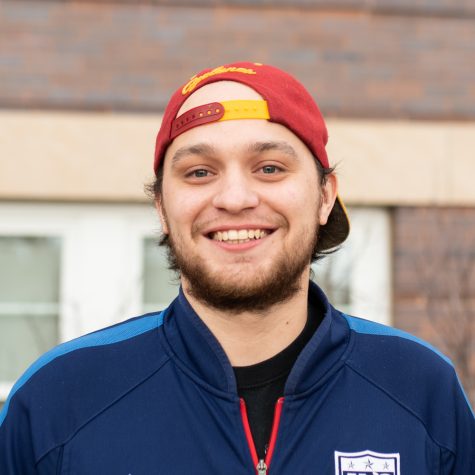 Justin Yost, Opinion Editor
Justin Yost is from Logan, IA and graduated from Logan-Magnolia High School in 2013. Justin is a senior and is majoring in Journalism. Aside from writing...