Wrestling club takes 7th at NCWA National Dual
Hang on for a minute...we're trying to find some more stories you might like.
The Wildcat wrestling team, with the help of a decisive 60-3 win over Auburn University, placed 7th at the NCWA national dual.
All-American Jon Williams as well as three other Wildcats went 6-0 over the weekend.
The WSC wrestling team walked into the arena already behind the eight ball.
How could this team from rural Nebraska beat division one teams like Auburn?
With the help of four wrestlers going undefeated, that's how.
"I have been to big duals before, but the atmosphere was still amazing. There were so many people cheering on their teams," Williams said.
Tanner Clark, who went undefeated, said, "It was different for me. I had never been to a big dual like that. It was a lot of fun."
"This was our first time at nationals and everyone looked over us. They thought we were over-ranked because we could beat small bad college teams," Williams said when asked how they placed 7th.
Freshman Casey Glassgow went undefeated this weekend.
Coach Greg Vander Weil was happy with his freshman.
"Casey wrestled extremely well. It was very impressive for a freshman to do what he did this weekend."
Glassgow had three pins and one major decision.
"I can do better next week," Glassgow said when asked how it felt to be the new guy and have an outstanding weekend.
Matthew DeGarmo had four pins over the weekend.
"We put in the work, and we are coached to be great. We don't just lie down to big teams," DeGarmo said.
DeGarmo beat the top 174 pounder in the nation.
"A lot of guys beat ranked opponents," Vander Weil said.
He said the one dual that stands out the most over the weekend was a 28-19 loss to second place Apprentice. The team lost by nine but gave up six points because of an injury Wayne State picked up earlier in the weekend.
"It was a complete team effort. Everyone did their best trying to get the win," Vander Weil said.
"The whole team tried so hard to win every match. It was hard having to forfeit one match but there is nothing you can do about it. You have to put it behind you and go out and wrestle," Williams said about the dual.
"It was a great weekend, overall. It really shows what we are made of for the rest of the season. We will take 17 points into the big national tournament, which is a great thing. I really do believe we have a lot of guys who will be All Americans this year," Coach Vander Weil said.

About the Writer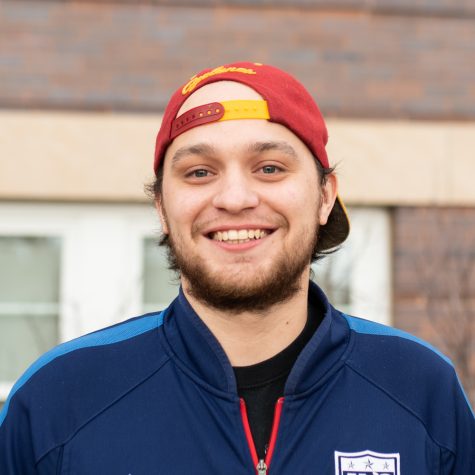 Justin Yost, Opinion Editor
Justin Yost is from Logan, IA and graduated from Logan-Magnolia High School in 2013. Justin is a senior and is majoring in Journalism. Aside from writing...