Mental health with the WSC Counseling Center
Tabetha Waggoner, a licensed student counselor at Wayne State College, said she has definitely seen an increase in students needing counseling since the pandemic started. 
"Becoming a counselor had to do a lot with life experiences I had as a child that I didn't want other people to have to deal with," Waggoner said.  
Waggoner said she's noticed students having troubles trying to balance all the responsibilities they have in their lives.  
"There have been many struggles I've seen since COVID," Waggoner said. "Some students just don't go to class, some have really busy schedules with family or just balancing all the stress and anxiety that comes with it." 
Waggoner said she thinks the leading cause of mental health issues in students today comes from the adjustment periods and transitions from living at home to a sudden change. 
"Not having the structure of living at home all a sudden and trying to figure out life on your own can cause a lot of anxiety and depression," Waggoner said. "Mental health to me is just having well rounded aspects in your life, knowing that anxiety is a thing and a regular emotion for everyone."  
Waggoner said it easy to make an appointment with them, just go to the Wayne State College website. 
"Go on our website, you will be able to find it on the Wayne State College website, as soon as you submit your application," Waggoner said.  "We review them on a regular basis and reach out to students with a time that works around their school schedule."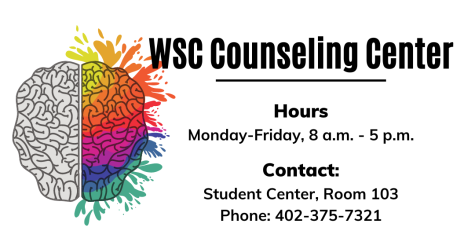 Waggoner said the first meeting with a student is usually used for discussing goals and a treatment plan. 
"I personally like to choose strategies for students that we will then work through debating on their process and how fast the student can be discharged," Waggoner said. "It's okay to ask for help. We're all human. It is absolutely okay, and we need to normalize that needing support is normal." 
 Waggoner said WSC counselors see an average of 25-27 students a week. 
"I've only been a counselor here for three years but since I've been here we average 780 students a semester and 2,000 students in a year," Waggoner said. 
Waggoner said the biggest spike she has seen in students needing counseling was a year ago. 
"There has been a spike in just this year than others, which I believe has something to do with COVID," Waggoner said. 
Alicia Dorcey McIntosh, the associate vice president for Student Affairs, said she has also seen a huge increase in counseling since COVID. 
"Every year it does increase a little, but we have seen a huge increase the past year," McIntosh said. 
McIntosh said she's always wanted to be a counselor in a smaller community. 
"Mental health is better when you have a community," McIntosh said. "Wayne is such a small knit community. I love it."  
"Post-COVID brought out more isolation and loneliness within students," McIntosh said. "[With] the increased use of social media it has been harder for students to connect with each other."  
McIntosh said she thinks the leading cause of mental health issues is the students comparing themselves to others on social media. 
"We are seeing so much more anxiety; higher expectations being put on students along with pressure to perform well," McIntosh said. 
"It's important to remember that your mental health is health," McIntosh said. "We tend to get so overwhelmed and wrapped up about what's wrong with us when we're actually doing great." 
McIntosh said there are many ways students can sign up for an appointment with a counselor. 
"You can sign up online, or stop in to make an appointment," McIntosh said. "We will walk them through the process. We also have walk-in appointments available to students who feel they need to be seen right away."  
McIntosh said the focus for meeting with a student is setting up a treatment plan and how to meet goals every week. 
"The first meeting is really getting all of the information from the student, are they dealing with anxiety, depression, stress, from there on every week we meet we talk about if you feel like you're meeting your goals or not," McIntosh said. 
Tiffany Toth, a senior at WSC, said she's been to the counseling center a couple of times and counseling has helped her get a new perspective on the situation. 
"I tend to talk to my friends that will listen, but going to counseling and getting a new perspective on it has been nice," Toth said. 
Toth said she would definitely recommend the counseling center to her friends. 
"Yes, I would recommend [counseling]," Toth said. "It was very helpful and, like I said before, you can get a new perspective and if you're struggling with mental health, it's a great service to have." 
Toth said counseling was the best option for her at a time she was struggling with relationships in her life. 
"I went to counseling because of a lot of personal tension in my life between relationships in my family," Toth said.  
"Mental health is something that every person struggles with, going to get help is a good first step."