Students explore majors and minors at fair
Wayne State College's Holland Academic Center hosted a Majors and Minors Fair on Feb. 23 and 24 in the Kanter Student Center.  
The college's faculty sat in the Frey Suite at tables filled with flyers while people went around and asked questions. Teachers offered advice to students by suggesting career fields and classes.  
Academic Advisor Brittany Vinchattle said the fair used to be an annual event, but COVID and other factors have postponed the fair for several years.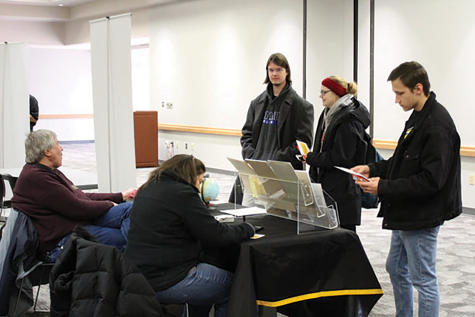 "Sometimes students come in with a fixed idea about what they want to do," Vinchattle said. "We know the popular majors and minors, but we don't know some of the smaller ones. I think it's important for students to be able to talk to people who are professionals in those fields and gain some insight into what they can do with those different majors." 
Freshman Hailey Walsh attended the event to see what staff had to offer. "The Majors and Minors Fair was cool," Walsh said. "They handed out door prize slips that encouraged me to talk to multiple different tables."  
The Holland Center's staff offered students cards that staff could sign; the collected cards will be used in a drawing with prizes. They also set up a booth where students could spin a wheel for smaller prizes.  
Sara Walsh, an associate professor at WSC, said it was great to see students speaking with faculty and exploring different potential areas of study.  
"The faculty really helped make this event for us because of the fact that we're so new," Vincattle said. "There's so many ways this campus works together, and students should understand everyone is here for their success."  
Vinchattle thinks the fair is a good way to offer options to struggling students who don't know what options are available to them. The Holland Center staff would like to start hosting the fair annually again.