Third time is the charm for Curt Frye
WSC President Frye to retire in June, search for new President to start immediately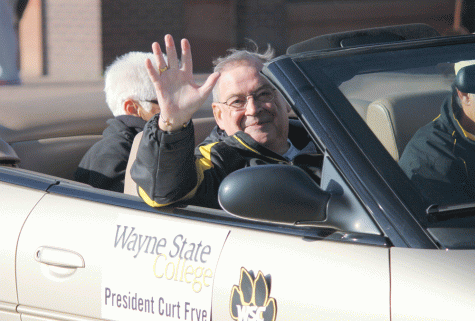 After nearly 30 years at Wayne State College, President Curt Frye announced his retirement in a news release on Monday morning. He will finish out the fiscal year—the remaining 6 months.
Frye served 18 years in the public schools of Nebraska, finding many hats to wear as a teacher, coach and counselor. In 1985, he was asked to be the Associate Dean of Students at Wayne State College, and served 3 years before becoming Dean of Students in 1988.
After his time in that position, Frye took on the title of Vice President of Student Affairs. By the year 2004-05, he had become Interim Dean of the College and then Vice President until 2009.
Then he retired.
But Frye couldn't stay away for long. In 2010-11, he returned as Interim President. When the 11th president, Dr. Richard J. Collings, retired, a search was conducted for his successor. Unfortunately—or, fortunately for Frye—the search failed, and the man so dedicated to Wayne State was offered the position.
During his time at the college, Frye said he loved to see students succeed.
"I've really enjoyed my association with Wayne State students," he said. "I'll miss [them]. They're bright students . . . alumni are doing amazing things."
While the students of the school are a large part of why Frye has stuck around so long, he also has a fond appreciation for the staff.
"[They are] dedicated to students' success," he said proudly.
Serving almost 30 years in a variety of positions, Frye has been on at Wayne State longer than any of his predecessors.
Now that Frye has announced his retirement, what happens next?
For Frye?
Time.
He is excited to be able to spend time with his two children, two grandchildren and his wife, who has been retired since 2006. Fishing, reading and vacationing at his condo in Arizona are some of the activities Frye looks forward to during his retirement years.
"I expect to develop a few more [hobbies]," he laughed.
Since the College can't go fishing, it must carry on, and a new president must be found. Stan Carpenter, Chancellor of the Nebraska State College System (NSCS), announced on Tuesday that a national search for the next president will "commence immediately."
Carpenter will meet with Wayne State College Senate Presidents, local community members and others to put together the Board of Trustees search recommendation committee and the WSC search advisory committee.
This search contains a different element from past searches, however. The NSCS will hire a professional search firm to aid in the search for the first time in NSCS history.
The committees will begin the process in January and hope to have the 13th president named by June.
"[We] (NSCS) want to thank Curt for his service to WSC," Carpenter said. "His third stint as President of Wayne was a success, just as were his first two."