Professor Spotlight: Zach Drees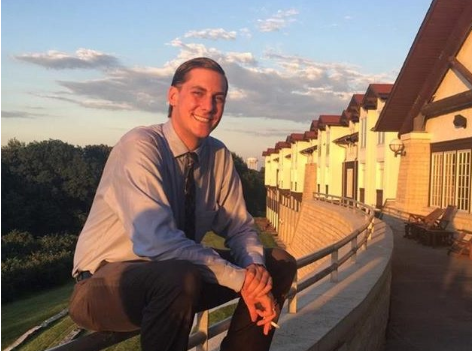 Zach Drees once sat in the seats students at Wayne State College are currently in and now and some of the professors are now his colleagues.
Drees attended WSC for his undergraduate and acquired a degree in writing and a MSC in curriculum and instruction in English education. He then moved on from Wayne and attended University of Omaha where he received an MFA in writing.
He is now back at WSC but has taken on a new role. He started as an adjunct professor and has now taken on a full-time position. Currently, he teaches expository writing, English composition, and a topics of literature class where the students read philosophic and religious novels.
Drees names Spencer, Iowa as his hometown. "Go Hawkeyes," he said. He gives credit to his mother for his love of reading. Every year at Christmas he would get a box of books and made the deal that if he finished all the books in the box, he would receive a new box next Christmas. His mother would send him to school with extra reading assignments and other homework as she did not trust the teachers were assigning enough work.
In his free time, Drees obsessively reads the news, enjoys writing poetry and fiction. He also enjoys spending time with his fiancé, Tabatha Waggoner and their dog Theo. Waggoner is also a faculty member at Wayne State College. She works for the Student Services Counseling Department.
Before accepting a full-time position at Wayne State, Drees worked multiple minimum wage jobs to keep is adjunct position. He worked at Mcdonalds, a bowling alley, a calling center, and still works a second job in the summers laying flooring.
With hopes of reaching students, "I want them to learn how to think critically for themselves," Drees said. He also advises students not to be afraid to be wrong, as there is no shame in being wrong and to try something different. Drees participated in slam poetry during his time as a WSC student. The first time he performed he was extremely nervous and the whole performance was sounds of anxiousness and shaking papers. He encourages students to get out of their comfort zone and that no one must be an English major to enjoy reading and writing.
Drees also wants to encourage students to take the steps he took in breaking out of his shell through public speaking. He believes a great opportunity is the slam poetry events that take place here in Wayne and the next one takes place on Nov. 18 at 7:00 p.m. and at the Max Bar and Grill.